Meet Our Asian Toddler, Kayo Hana! 🌸
"Flowers are like friends... They bring color to your world."
Our sweetest new arrival, Kayo Hana, is a breath of fresh air. A gorgeous redress of one of our most beloved Asian dolls, Kayo Hana gives a whole new look and personality to Ping Lau's baby sculpt debuted as Chilly Lily, now part of our Collector's Vault, from our reborn doll collection of year 2017. She's the perfect friend to add to your nursery today!
Kayo Hana means "Beautiful Flower" in Japanese
Her face is gentle, calm and full of innocence like beautiful blooming flowers in the field. From her beautiful round brown eyes and black hair to the details of her outfit, our team instantly knew that she would be called none other than "Beautiful Flower" or Kayo Hana in Japanese.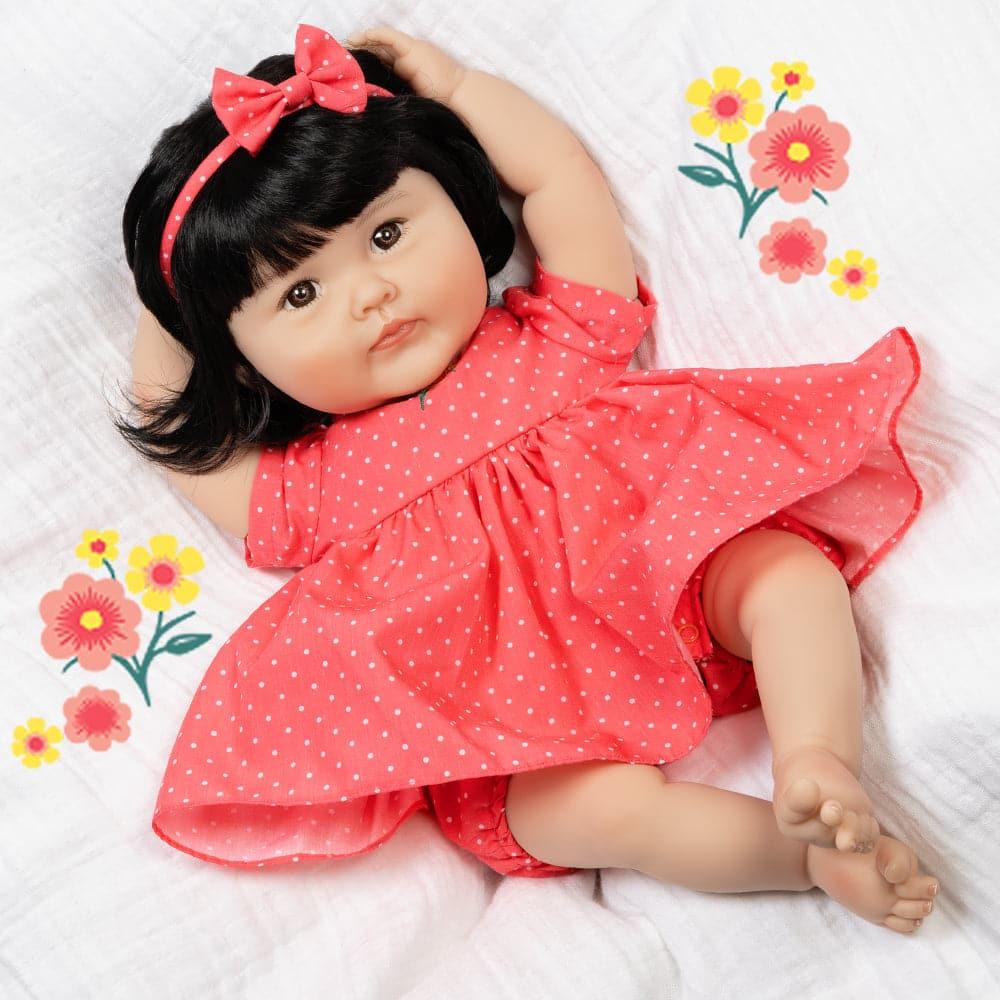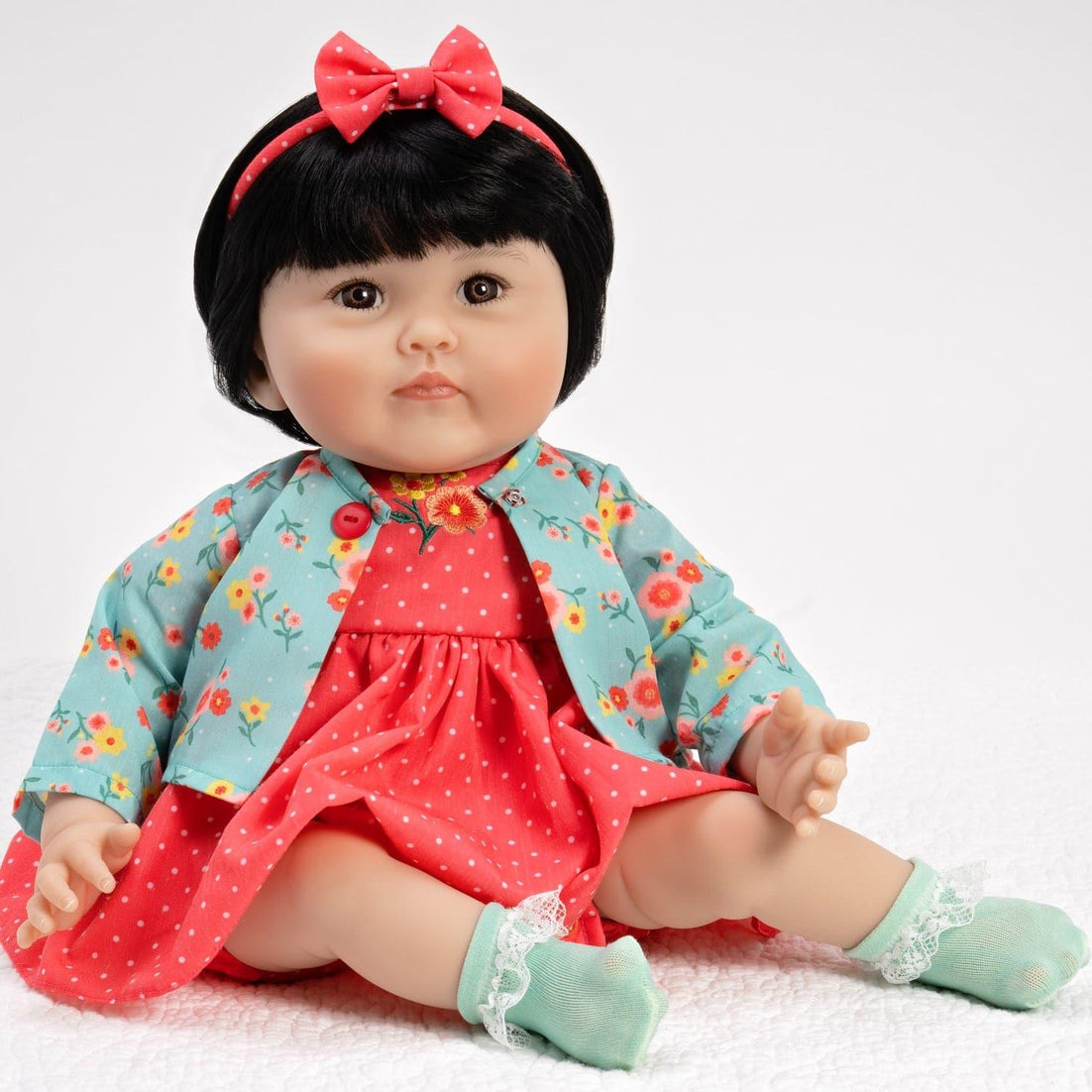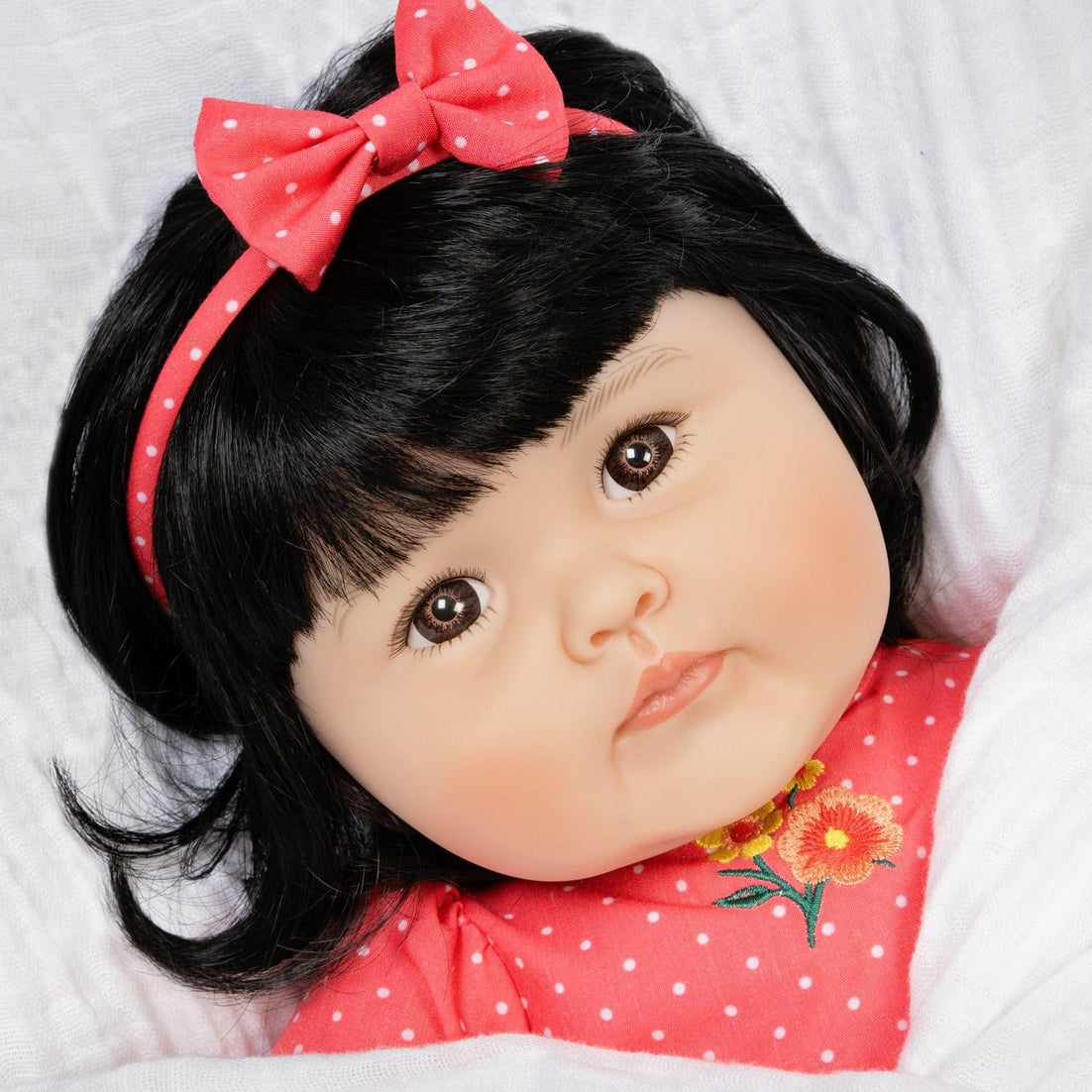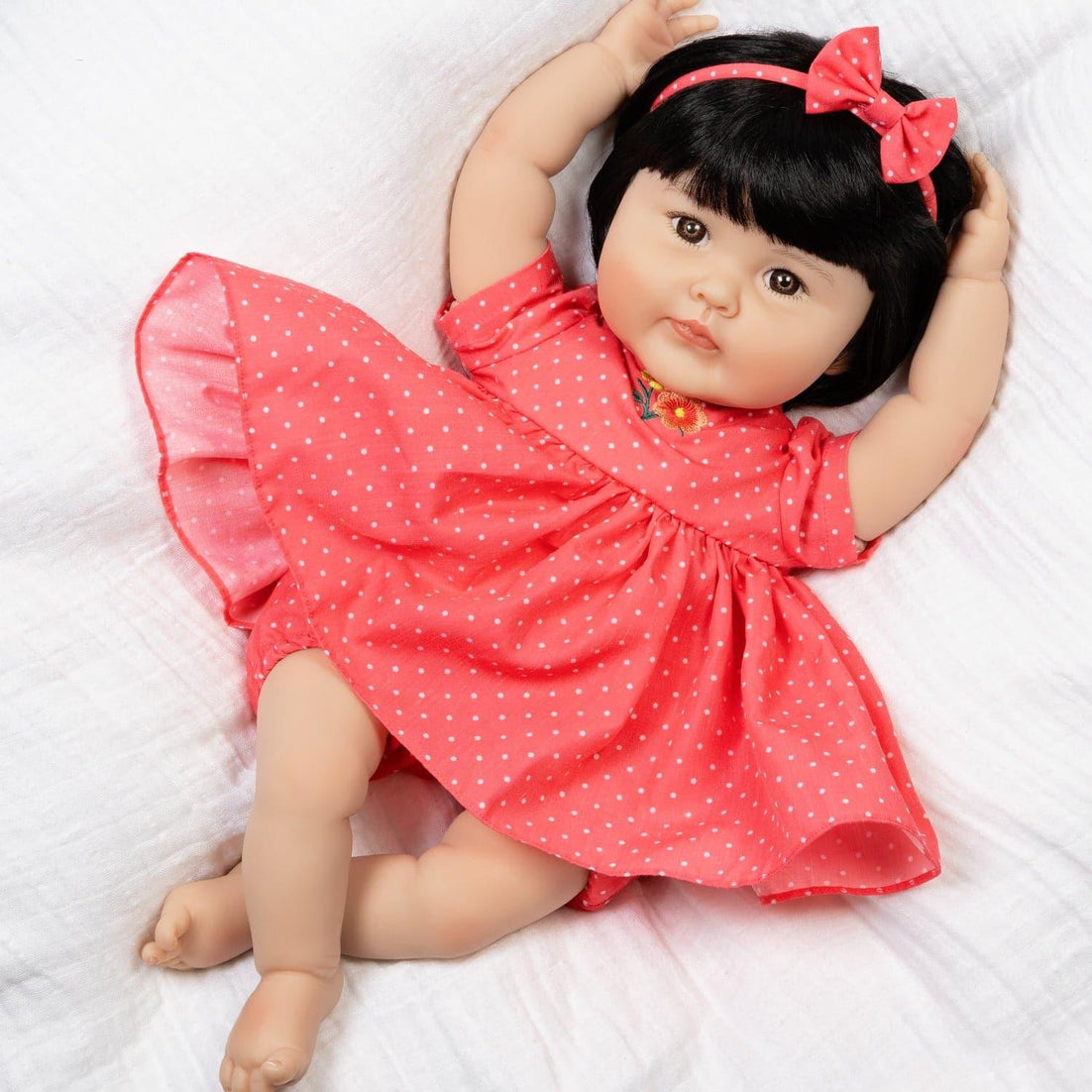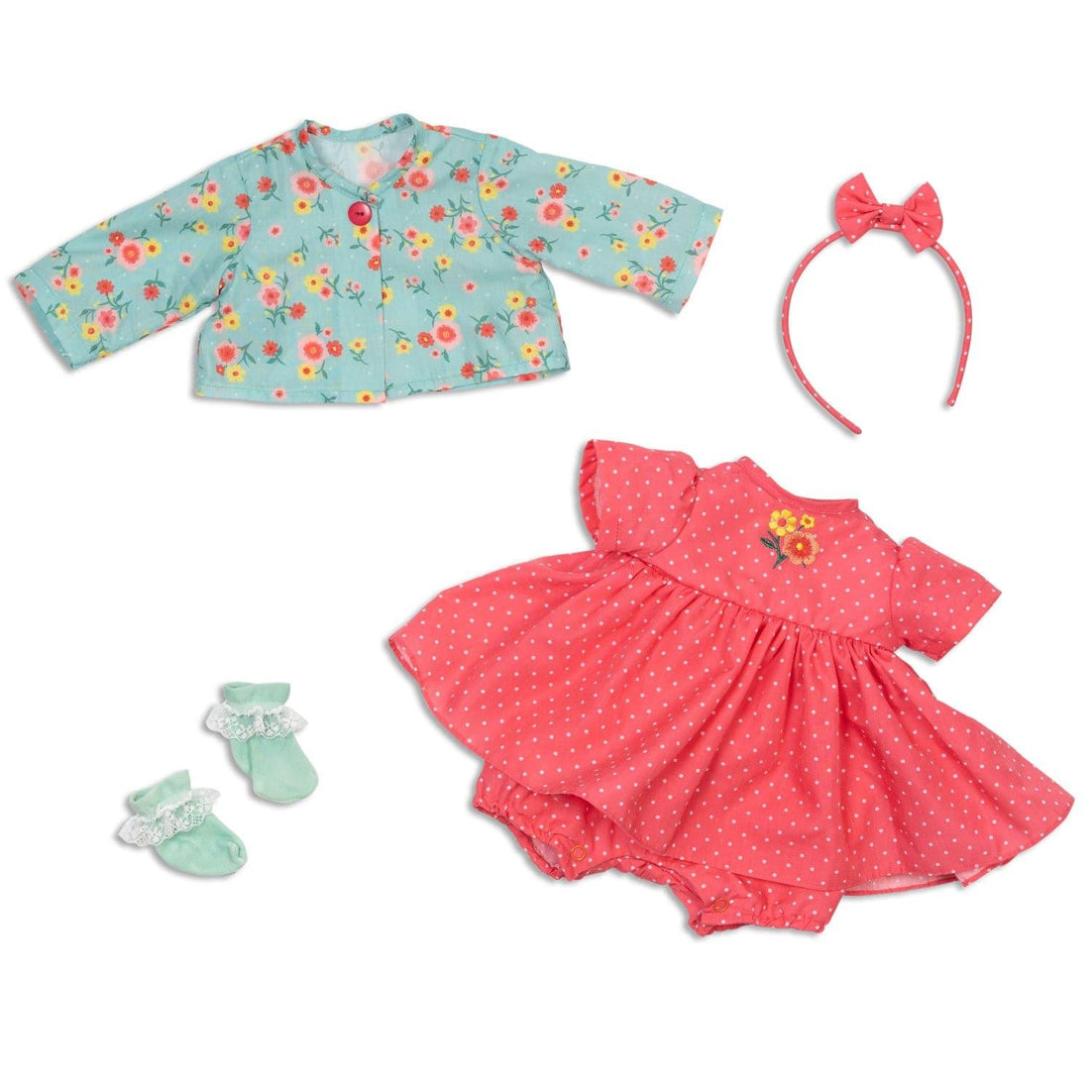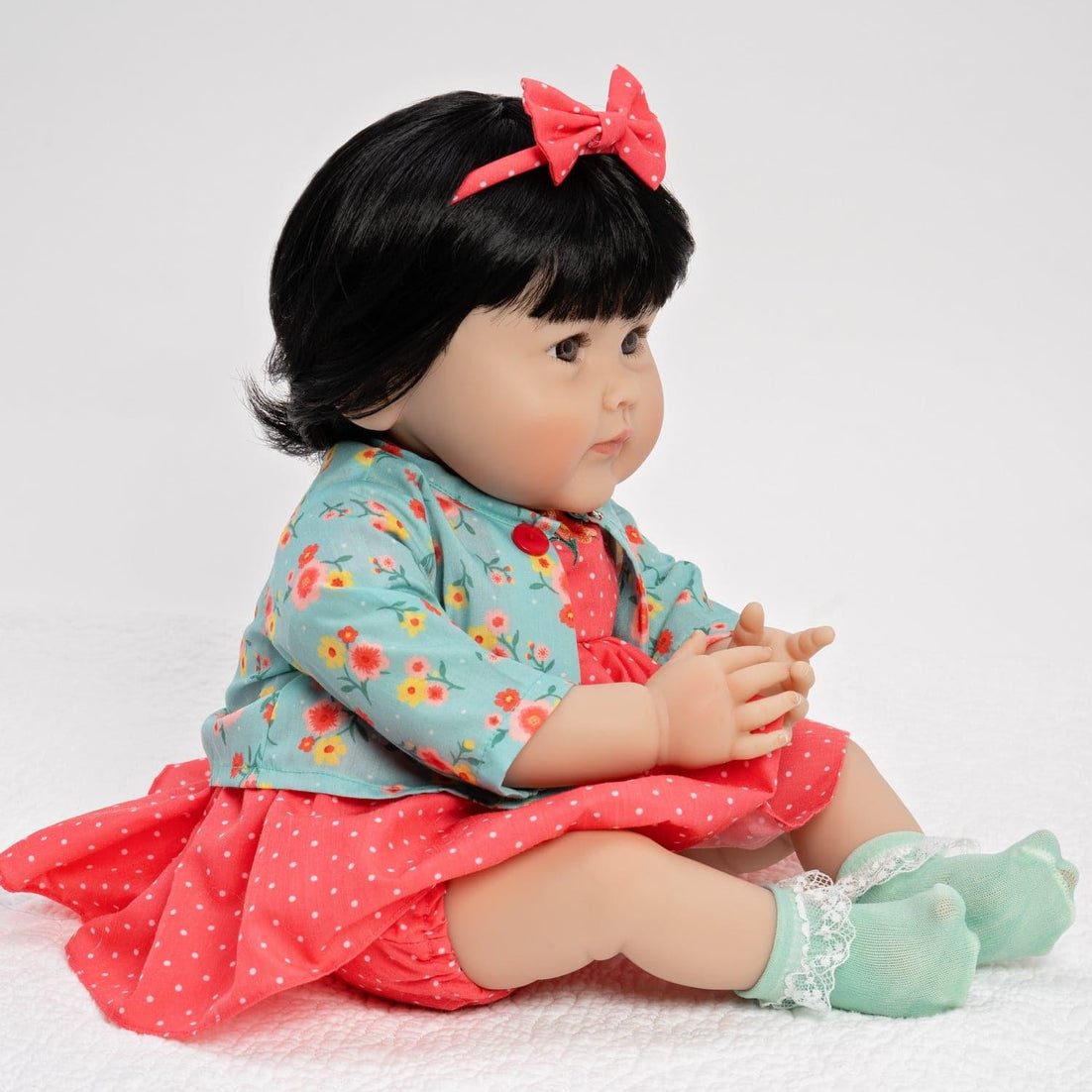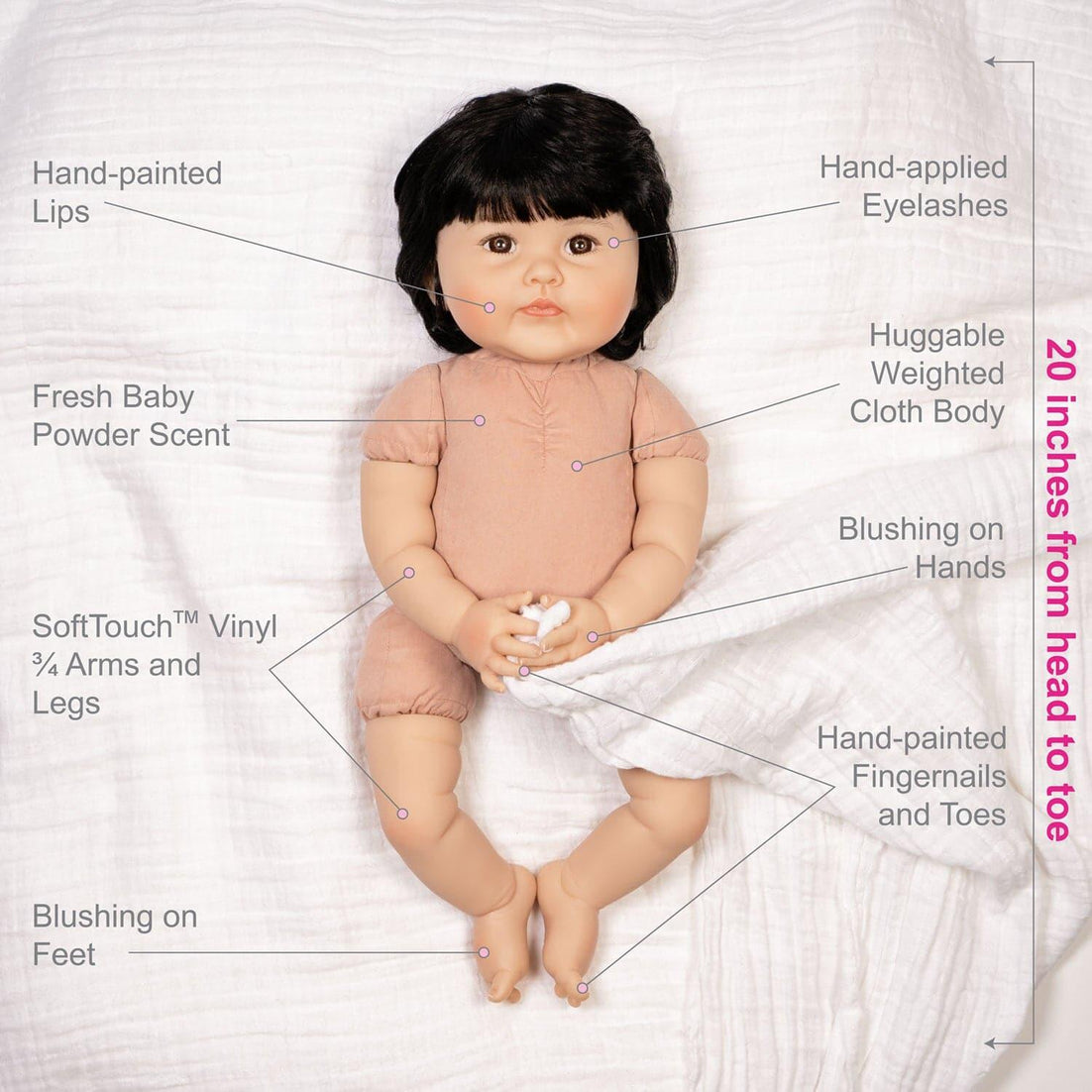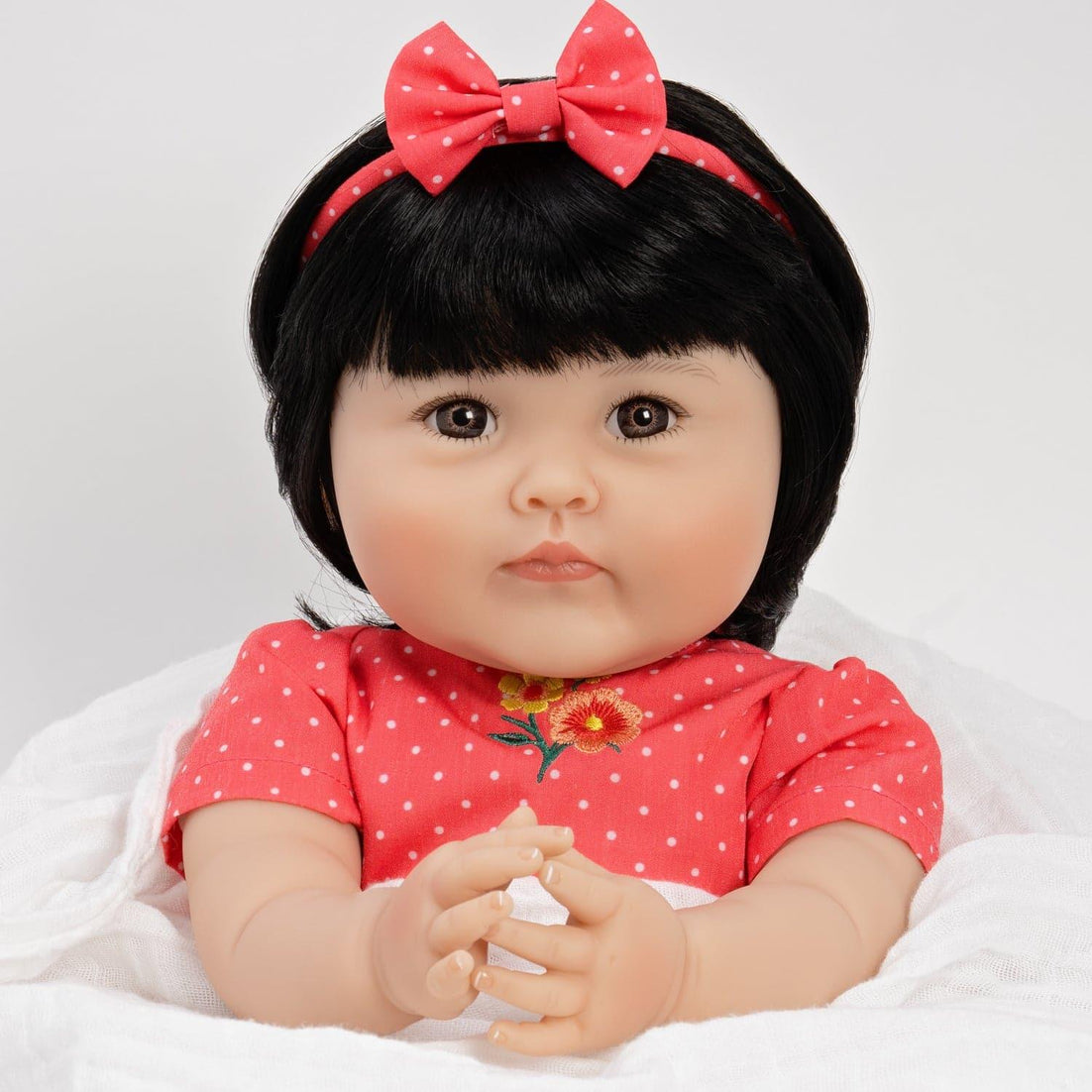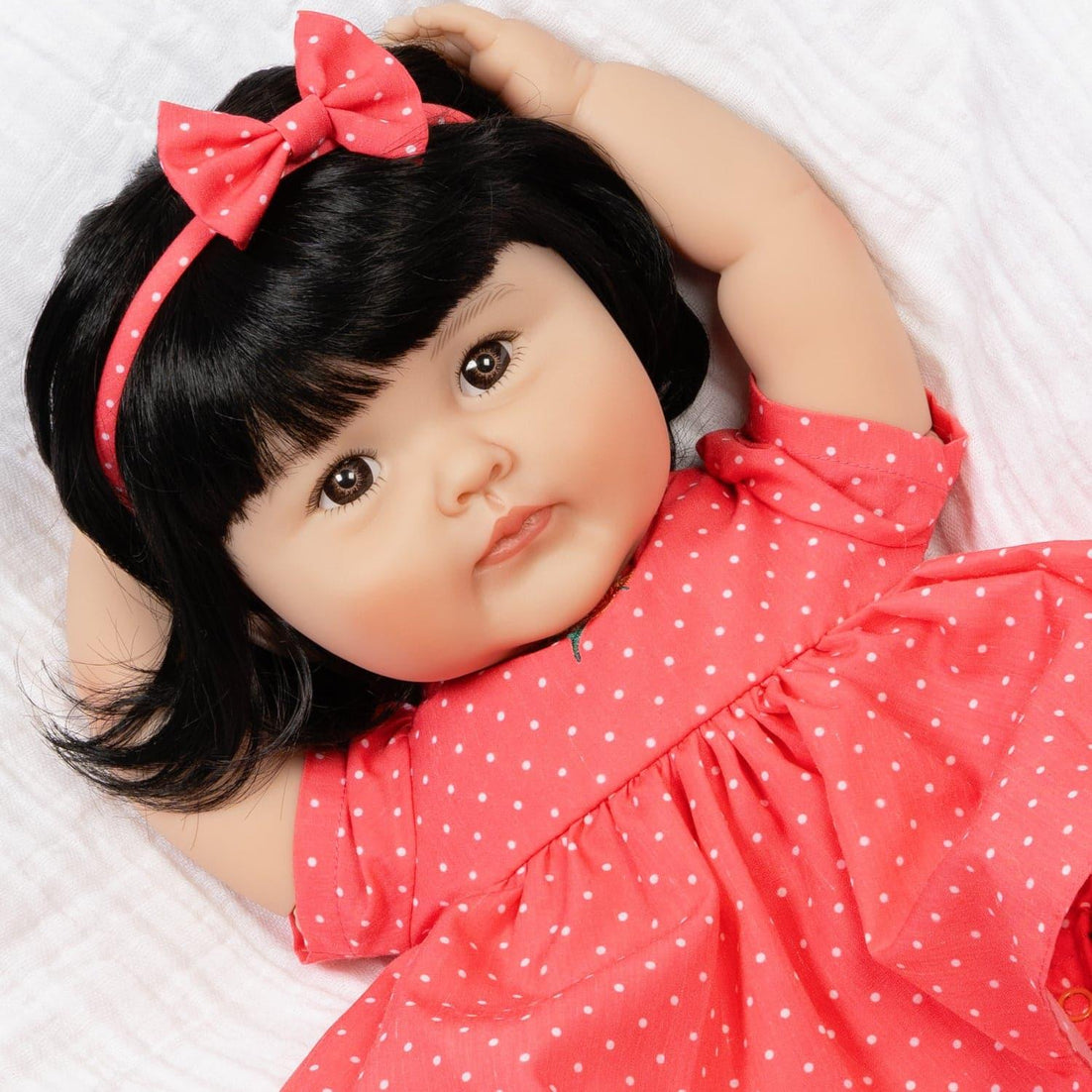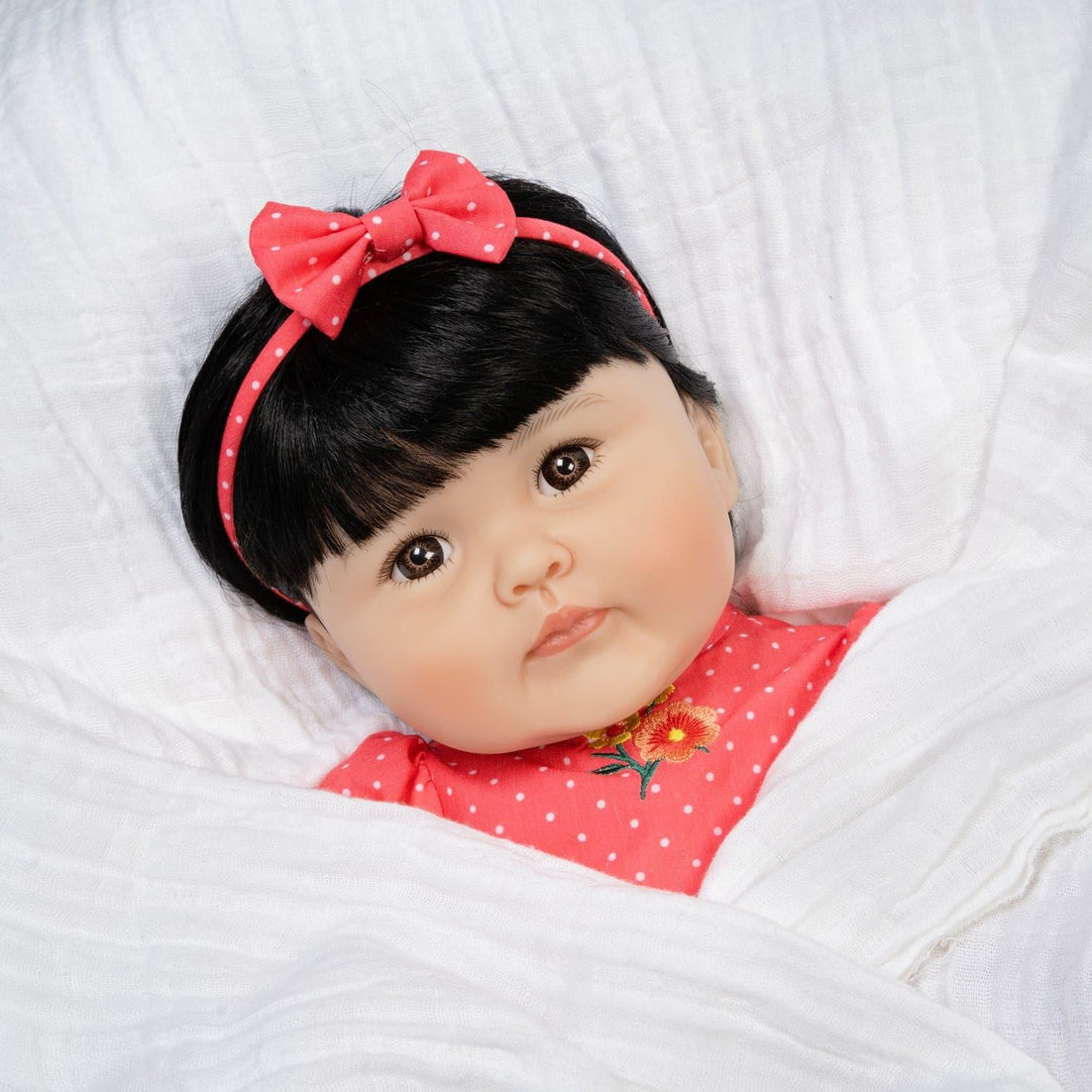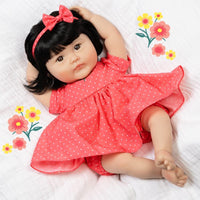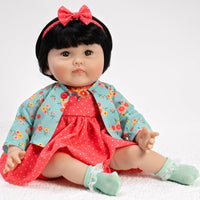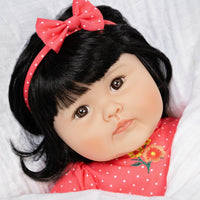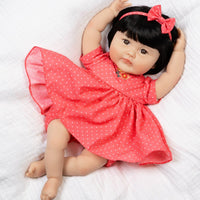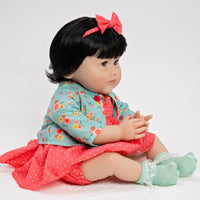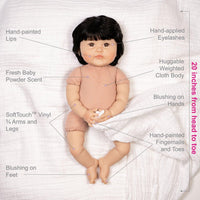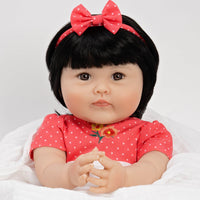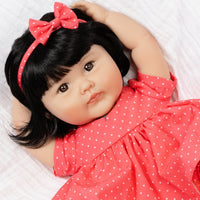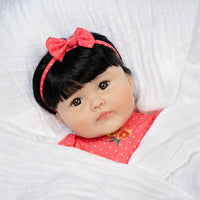 Made with Love in each & every detail

Just like every Paradise Galleries doll, this cute Asian toddler goes through a thoughtful and delicate process. Kayo Hana's beautiful ensemble perfectly matches her Asian skin tone with limbs crafted from our exclusive premium quality SoftTouch™ Vinyl which is squeezable and smooth as a baby's bottom with a light baby powder scent.

Our in-house doll designer Diane came up with the color combination of mint floral and coral for her outfit with accessories that make this doll oh-so adorable. She comes dressed in a white dotted coral dress with floral embroidery in front bodice which Diane expertly designed and developed in our Southern California HQ. Doubling the cuteness, she also included a dotted coral bow headband that complements Kayo Hana's dress, and a pair of mint socks with lace edging.
Bring home Kayo Hana 🌸
Gracing us with her beauty is our gorgeous Asian toddler girl Kayo Hana whose name translates to "Beautiful Flower" in Japanese. With the most stunning combination of colors in her ensemble, this precious sweetheart blooms with love as you snuggle her sweetly in your arms.
Our breath-taking realistic Asian girl Kayo Hana is outfitted in a coral-colored polka dot dress embroidered with flower appliqués on the bodice, and attached matching bloomers. When she gets cold wandering in the garden, this lifelike doll can wear her dainty flower-patterned mint green sweater to cover her soft-to-touch ¾ vinyl arms. Mint green socks with white lace trim cover her baby toes. She also arrives with a bow headband to style her silky black hair.
Bring home Kayo Hana TODAY!