Meet Kenzie, PG's newest model and member of GiGi's Playhouse
Here at Paradise Galleries, we believe in the important of representation. We're proud to be partnered with GiGi's Playhouse, an organization with a mission to change the way the world views Down syndrome and to send a message of global acceptance.

We are absolutely thrilled to introduce our newest model and member of GiGi's Playhouse, Kenzie! We are honored to have Kenzie as part of our team and we are confident that her story will inspire many others to get involved in Down Syndrome Awareness and the Down Syndrome Charity.
Kenzie's Story

by Diana Collins, Kenzie's Mom
"We saw her picture on an adoption advocacy website, and I couldn't get her out of my head. I stared at her picture for hours and it felt as it she was calling to us. We wanted her! We didn't know how, when, or with what extra money, but we were doing it! April 6th, 2017 we signed our commitment paperwork... we were going to adopt this baby and we were going to Ukraine!

When we held her for the first time, her body was limp & her stare was completely blank. It was almost as if we could see right through her. At 10 months old, there really wasn't much to this little person, and more than we realized... she was barely hanging on. She drank a max of 12 ounces per day, if she was even lucky enough to get that much down, as the bottles poured down her throat and out the sides of her mouth, while she struggled with swallowing. She was dehydrated and malnourished. The seriousness in her little expression was heartbreaking, as we did everything to try to make her smile ... but she just wouldn't smile.

The days passed slowly, but 2 months after visiting Kenzie in Ukraine for the first time, we finally had our court date, it was time to ask the judge for permission to adopt Kenzie and take her back to the US. On October 17, 2017, 6500 miles across the world, we walked our baby girl out of the orphanage. She was 12 1/2 months old, 12 pounds, and wearing size 3 month clothes. She had spent most of her first year of life laying in a crib for 20+ hours per day. She didn't know it yet, but her life was about to begin.

We knew that adding a child with special needs to our family meant extra work, but we had a lot of extra love to give with it. We knew that we had a lot to learn. We knew that it was intimidating at times, but our heart was in it. Every child deserves a family and deserves love. I will not lie to you and say that I wasn't scared of the unknown. The unknown health issues that come with Down syndrome. The fear of facing something major, that may not be treatable. The fear of not knowing enough to provide for any type of needs. But everyone has fears... its more of a matter of being able to face those fears, educating yourself, and adjust accordingly. Adding a child with Down syndrome to our family not only taught us so much, changed other peoples perspectives, but it actually enhanced our other children's lives. It broadened their knowledge and acceptance. It gave them a new level of patience and kindness, seeing everyone for who they really are, and not for who others may expect or want them to be. Our children learned to love unconditionally, and were introduced to appreciation and pride of every accomplishment and milestone, truly celebrating "life". It helped our children realize that everyone is different and should be loved regardless of those differences. Adding a child with Down syndrome to our family has helped shape our children to be better individuals in life and kinder people in society.

There is so much that goes on behind the scene when a child has a diagnosis or heath issues. And while we have always been optimistic, it can be lonely when you are in and out of the hospital or stuck at home. It can be hard to face new challenges without support. That is where Gigi's Playhouse was life changing for us. We attended the weekly LMNOP classes, where Kenzie could be socialized with other little ones about her age, that also have Down syndrome, while we talk to other parents and share experiences. We established a great bond with the volunteers and other parents and really looked forward to attending the classes and events! Now, at 6 years old, Kenzie is old enough to truly enjoy her time at Gigi's, and she even asks us to go to Gigis!! We are so thankful to have an organization that will be a life long place, and its own community, for Kenzie to grow up being a part of.

It has been incredible to witness Kenzie transform from a tiny, sad and lonely orphan to an emotionally attached and bonded daughter & baby sister. She is healthy, she is thriving both physically and mentally. She needs occasional medical attention due to her diagnosis of Down syndrome... but DS is just a diagnosis. Kenzie's smile is contagious and her happiness is radiating!

Our journey with Kenzies adoption and with the Down syndrome diagnosis has taught us to enjoy all of the little things in life. We appreciate each and every milestone and we never take life for granted. We have watched how one little girl has changed so many peoples perspectives of adoption and of Down syndrome. How one little girl Is making such an impact, not only for us, but in the world around us."

Diana Collins
Paradise Galleries Emma and Noah
Dolls with a Purpose
Paradise Galleries has partnered up with GiGi's Playhouse, an organization with a mission to change the way the world views Down syndrome and to send a message of global acceptance.

A portion of every sale of Down syndrome Awareness Babies, Emma and Noah, will be donated to GiGi's Playhouse to support their delivery of free educational, therapeutic-based and career development programs for individuals with Down syndrome, their families and the community.
Visit GiGi's Playhouse to learn more about their mission!
Meet PG's Dolls with a Purpose!
Down Syndrome Awareness Baby Noah
Just when you think you know what love is, this little baby looks up at you with his twinkling brown almond eyes and smiles. Indeed, he is truly unique and one of a kind. Squeeze his baby cheeks and he'll stick his tongue out! His adorable expression reflects pure joy as he finds a home with you, forever.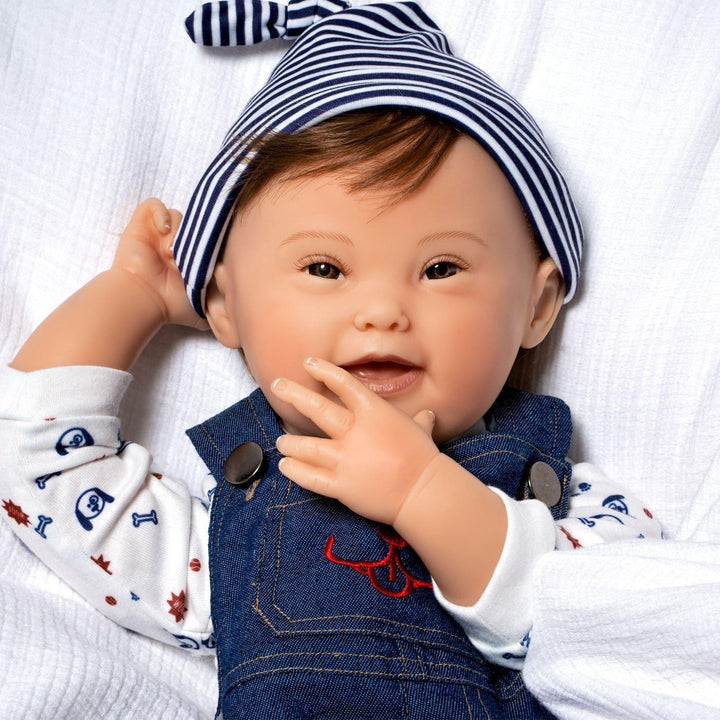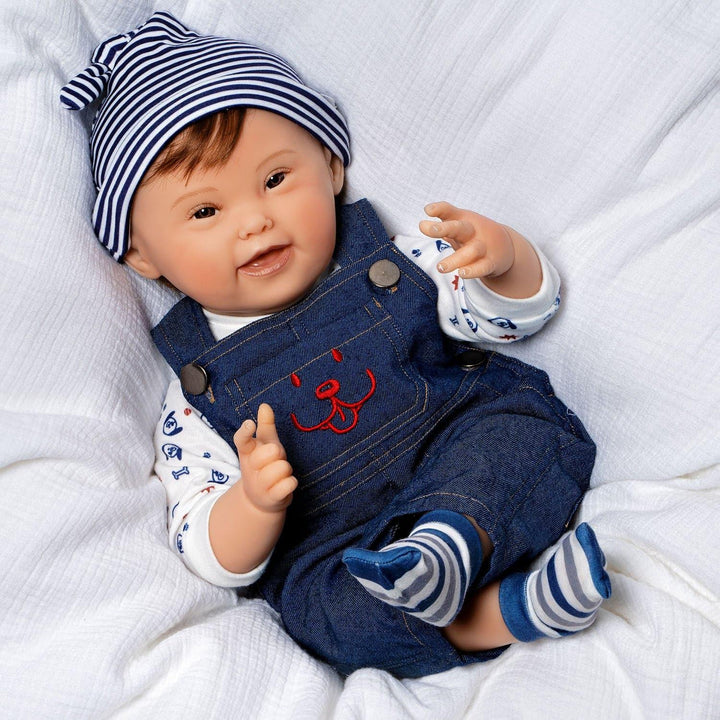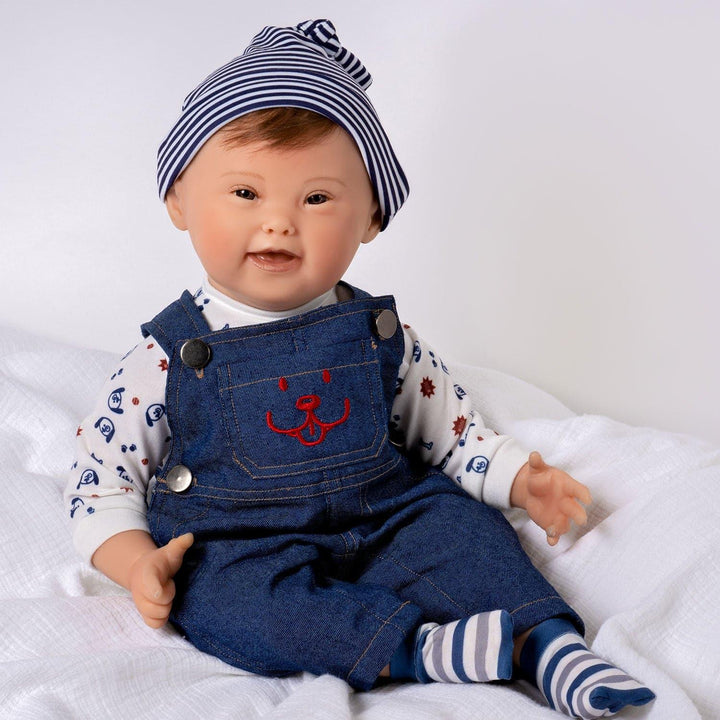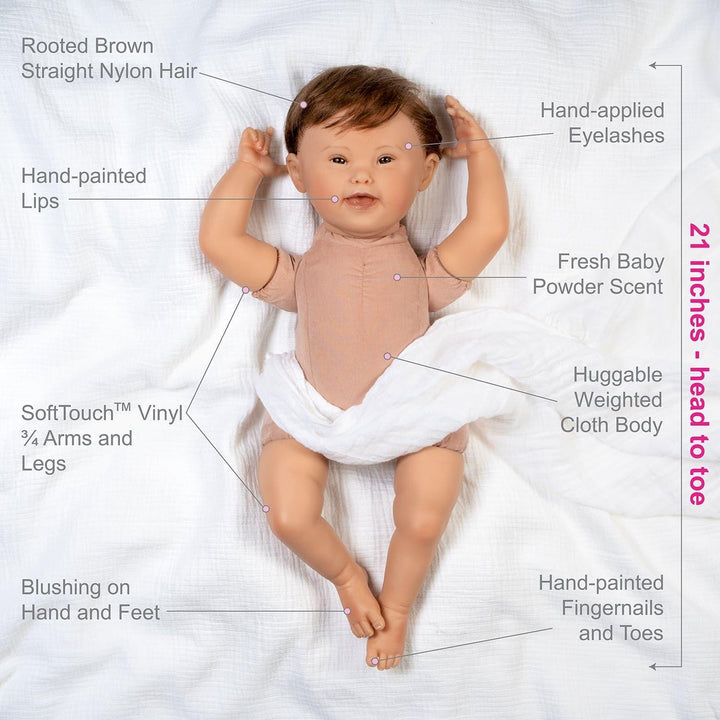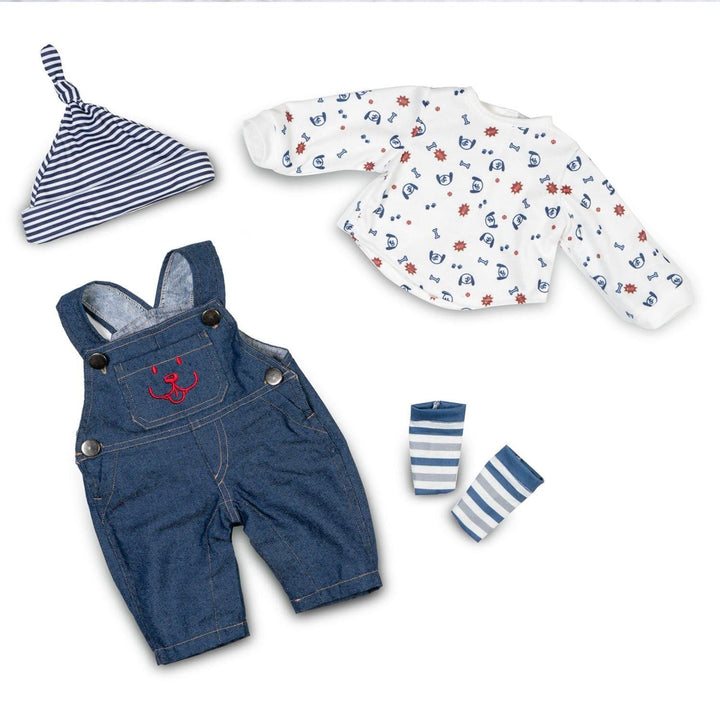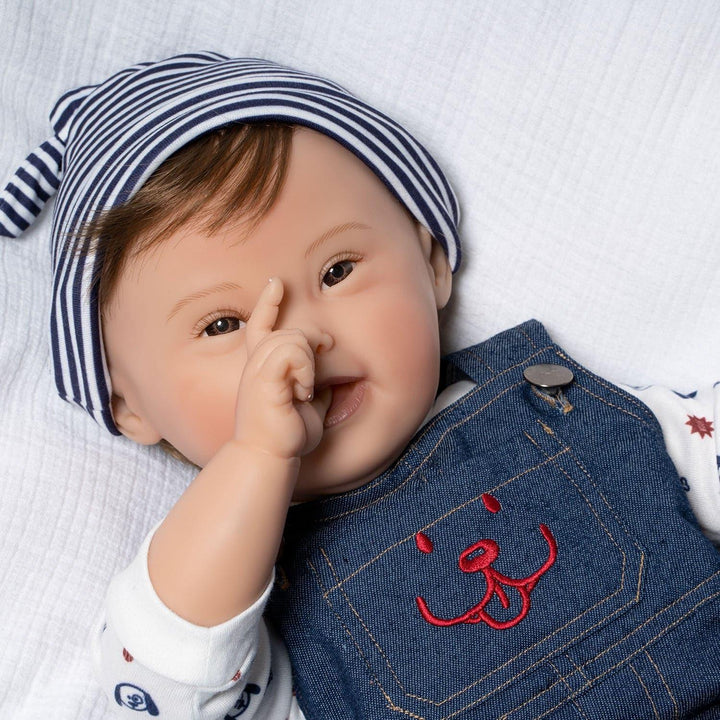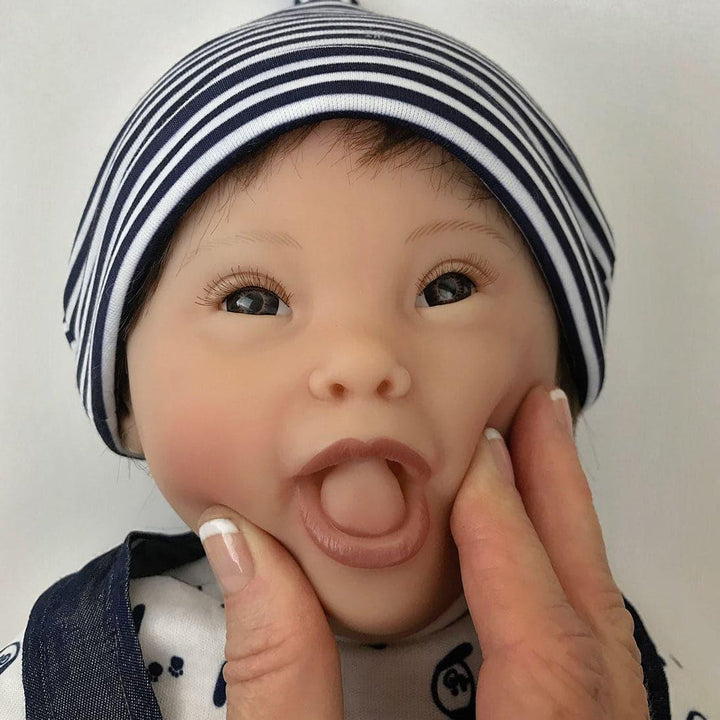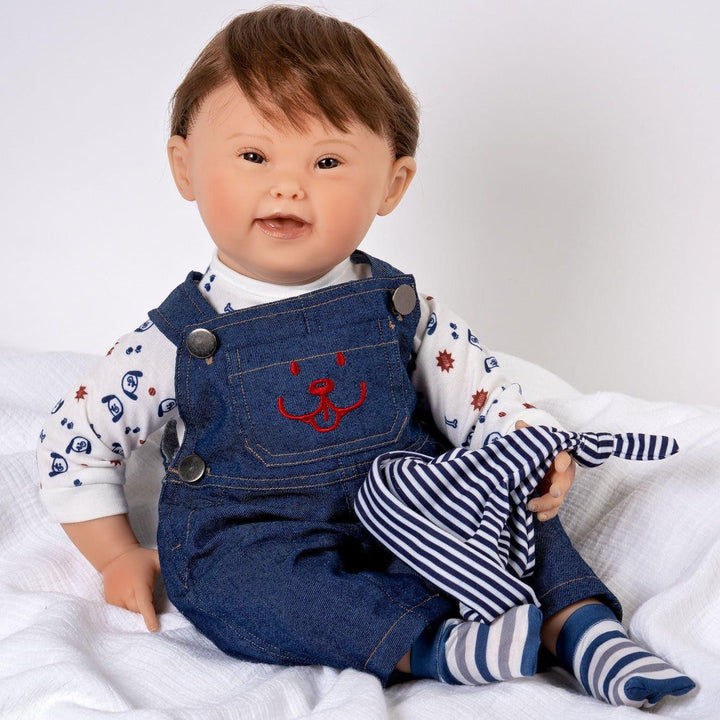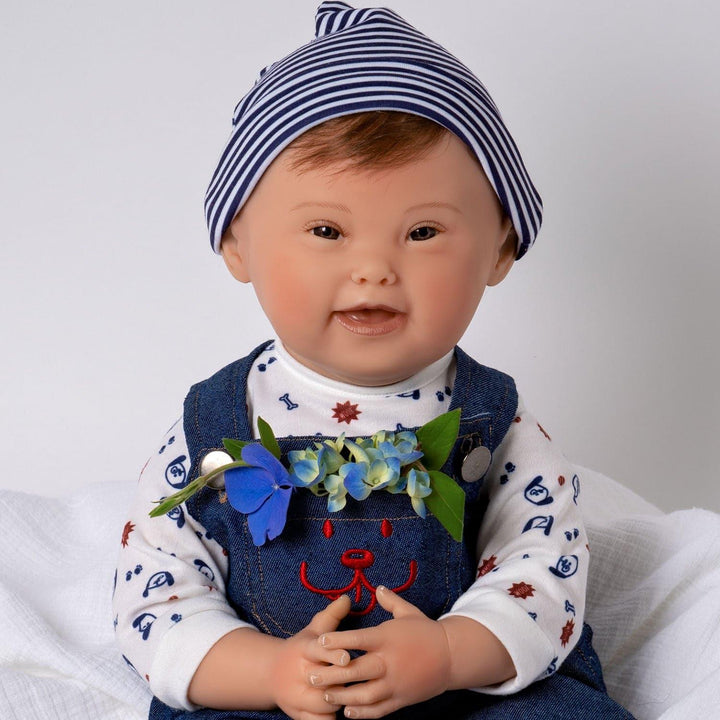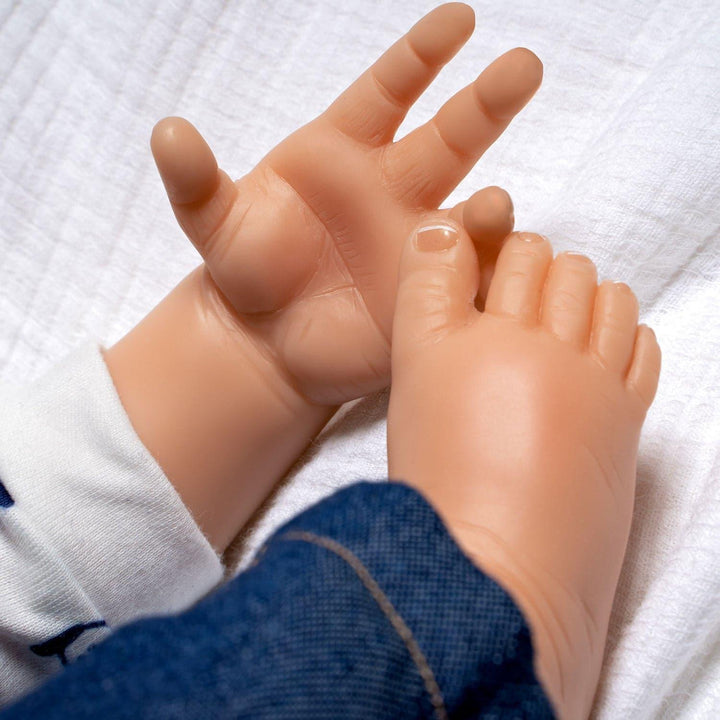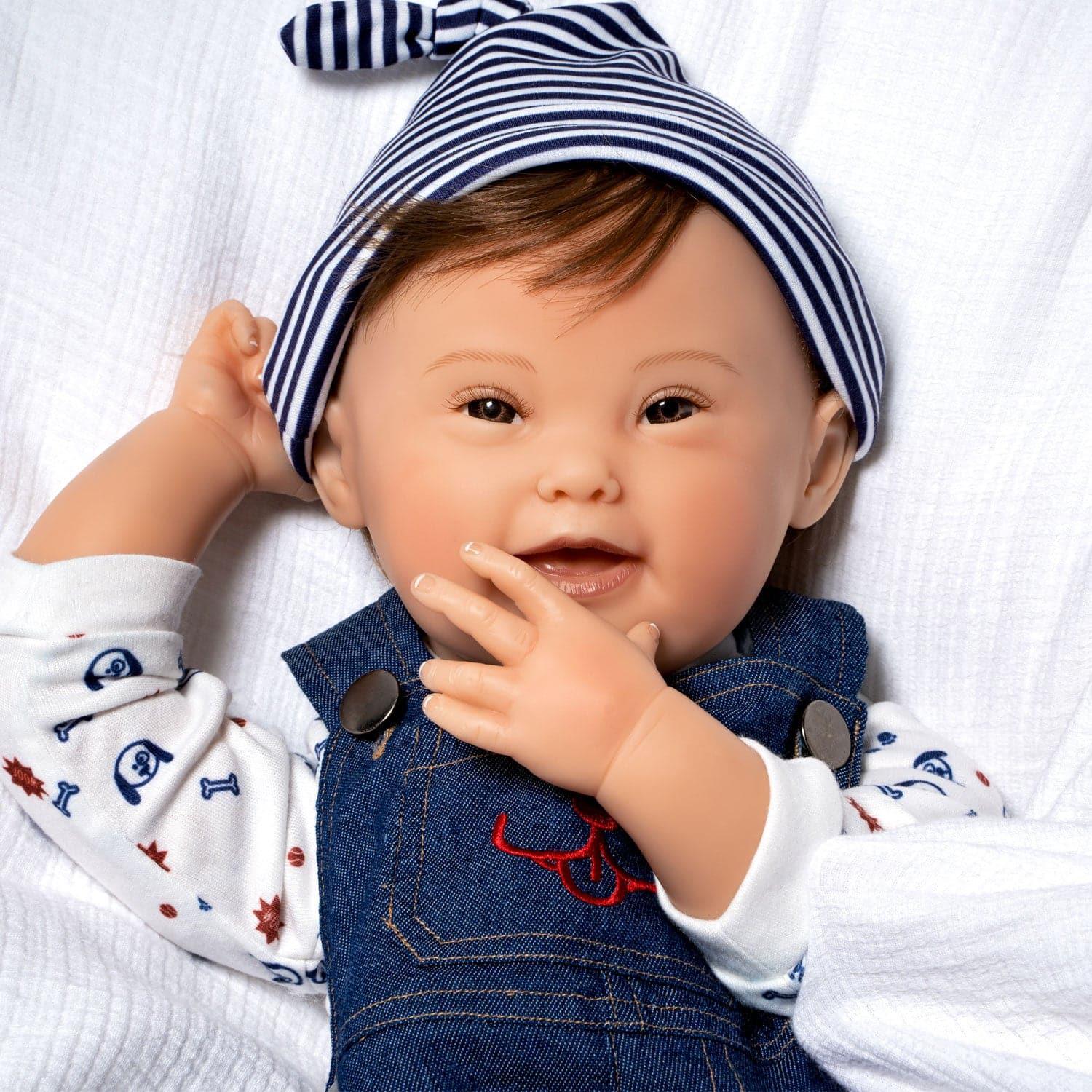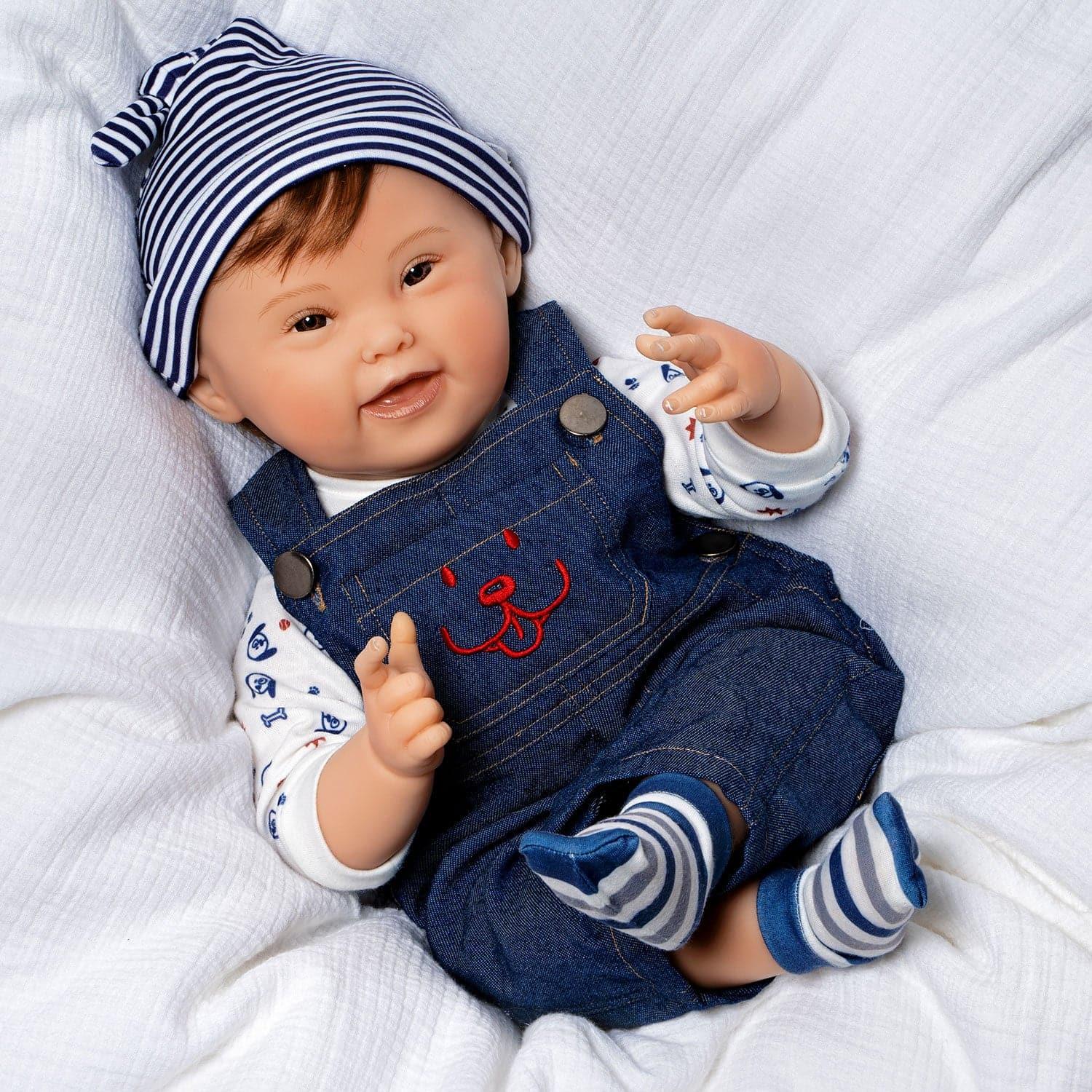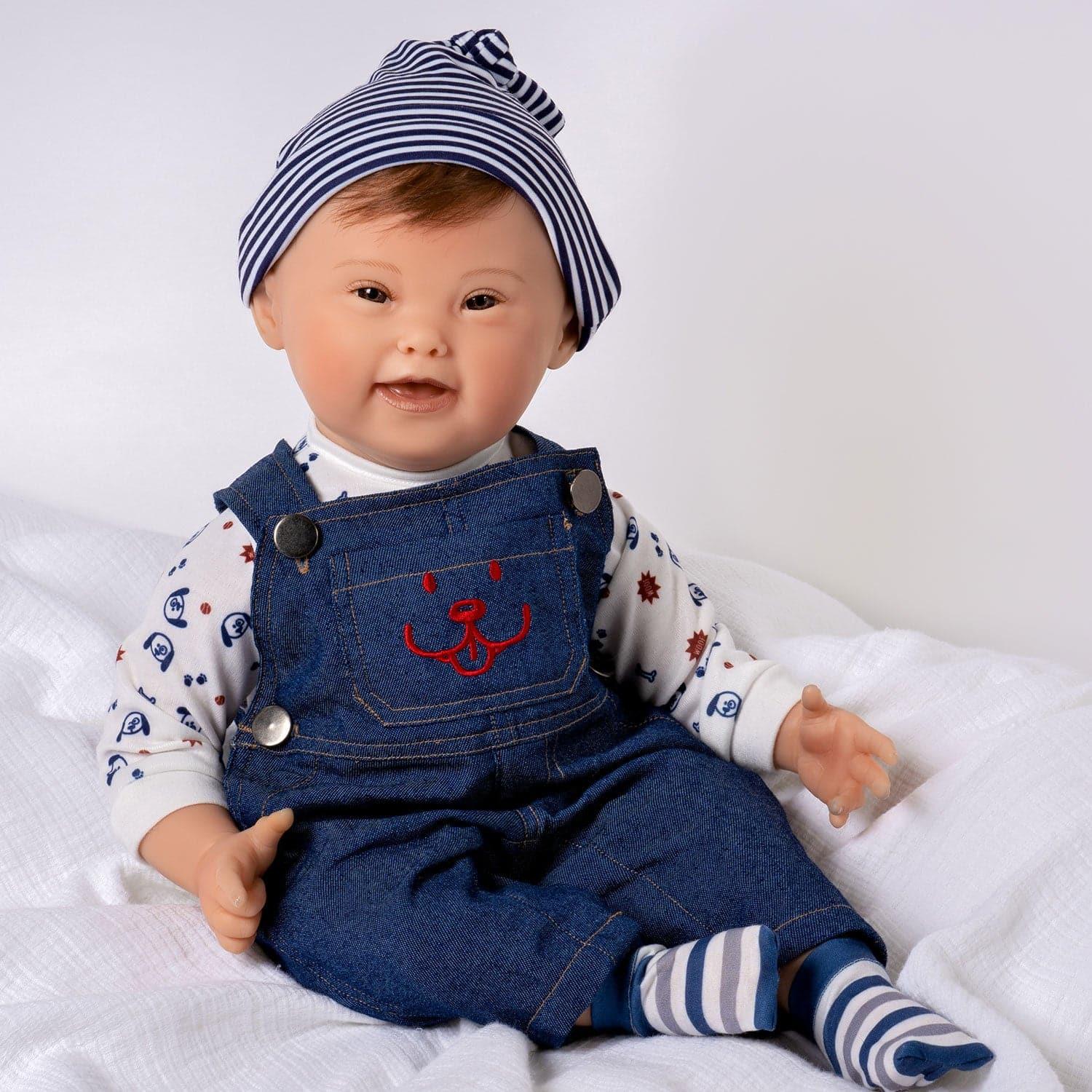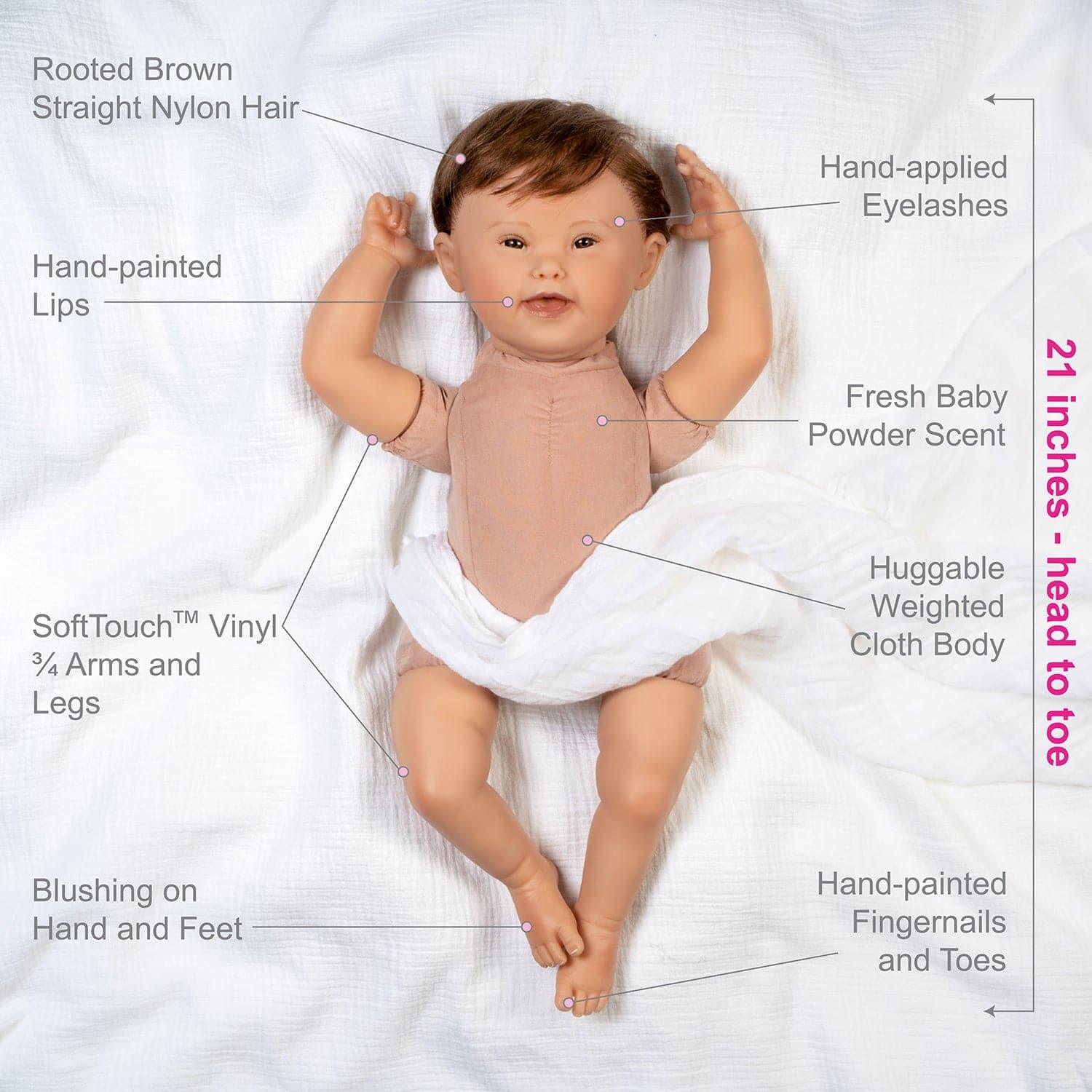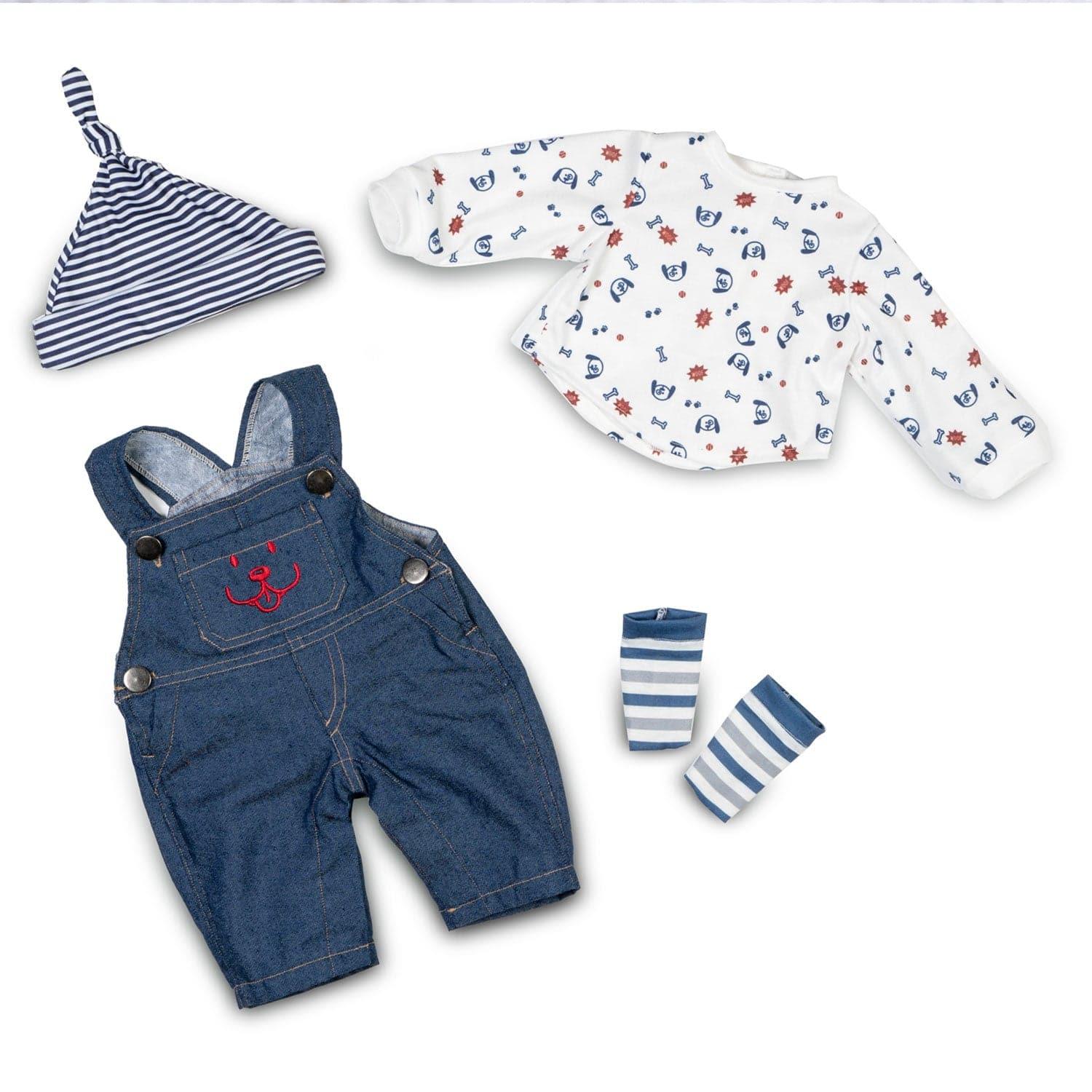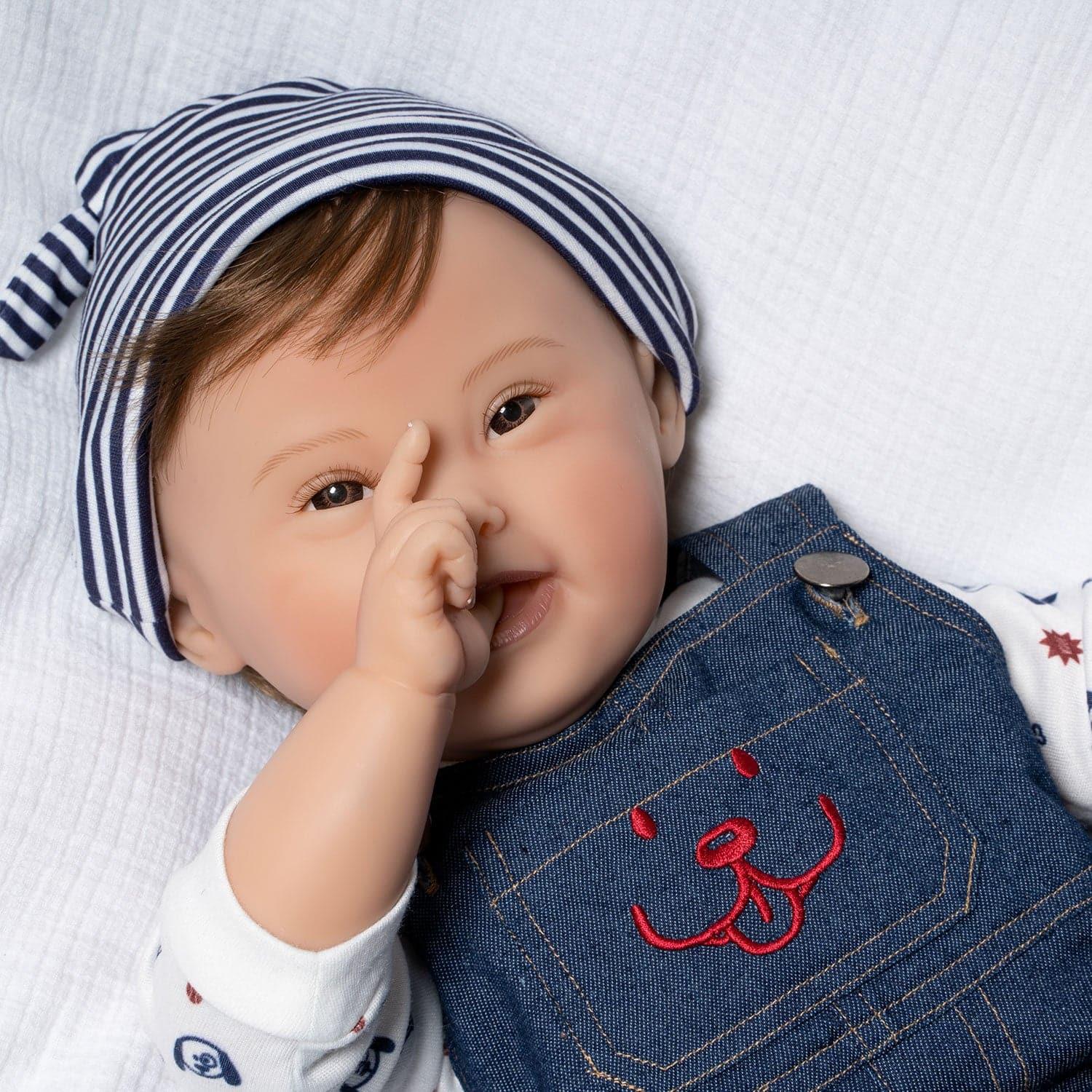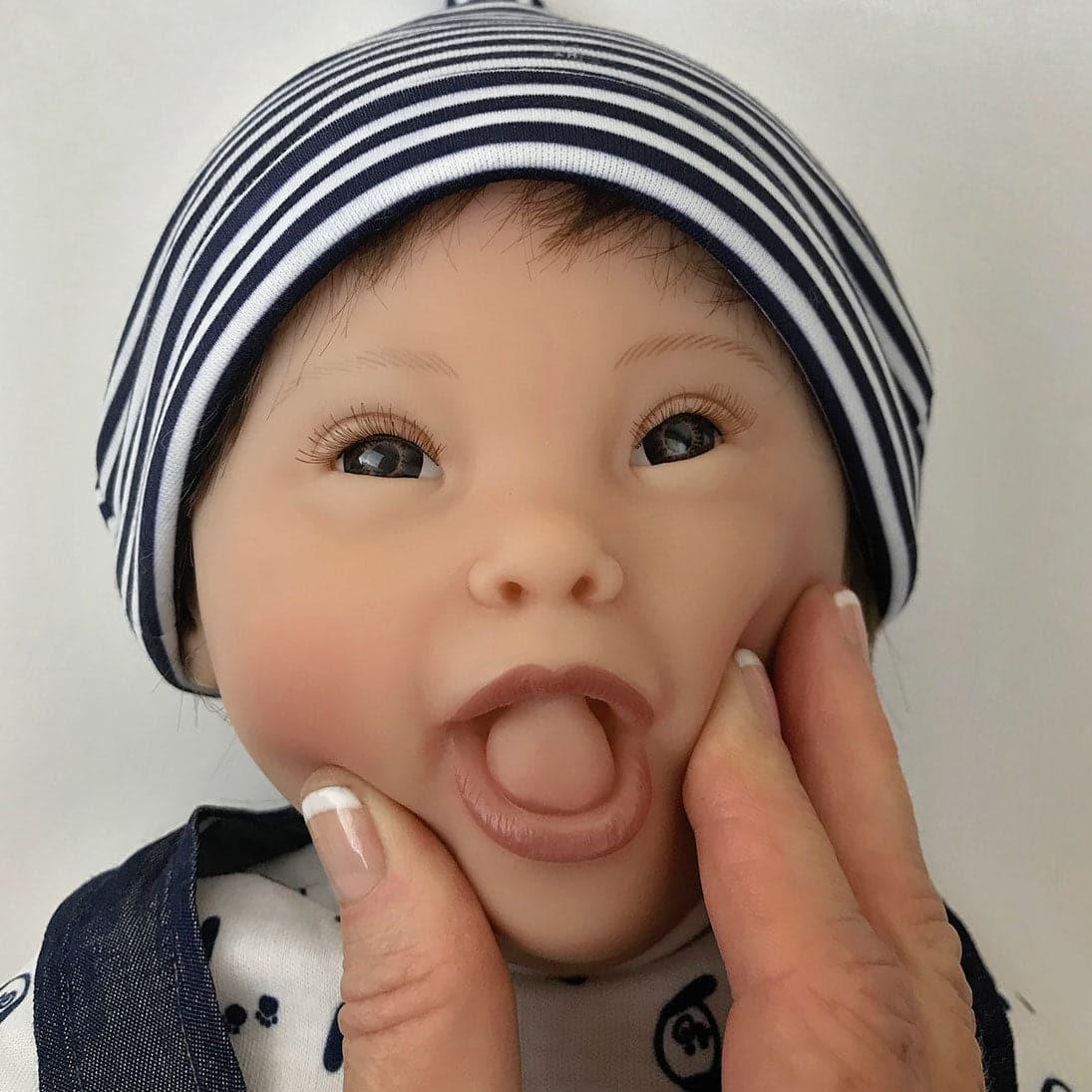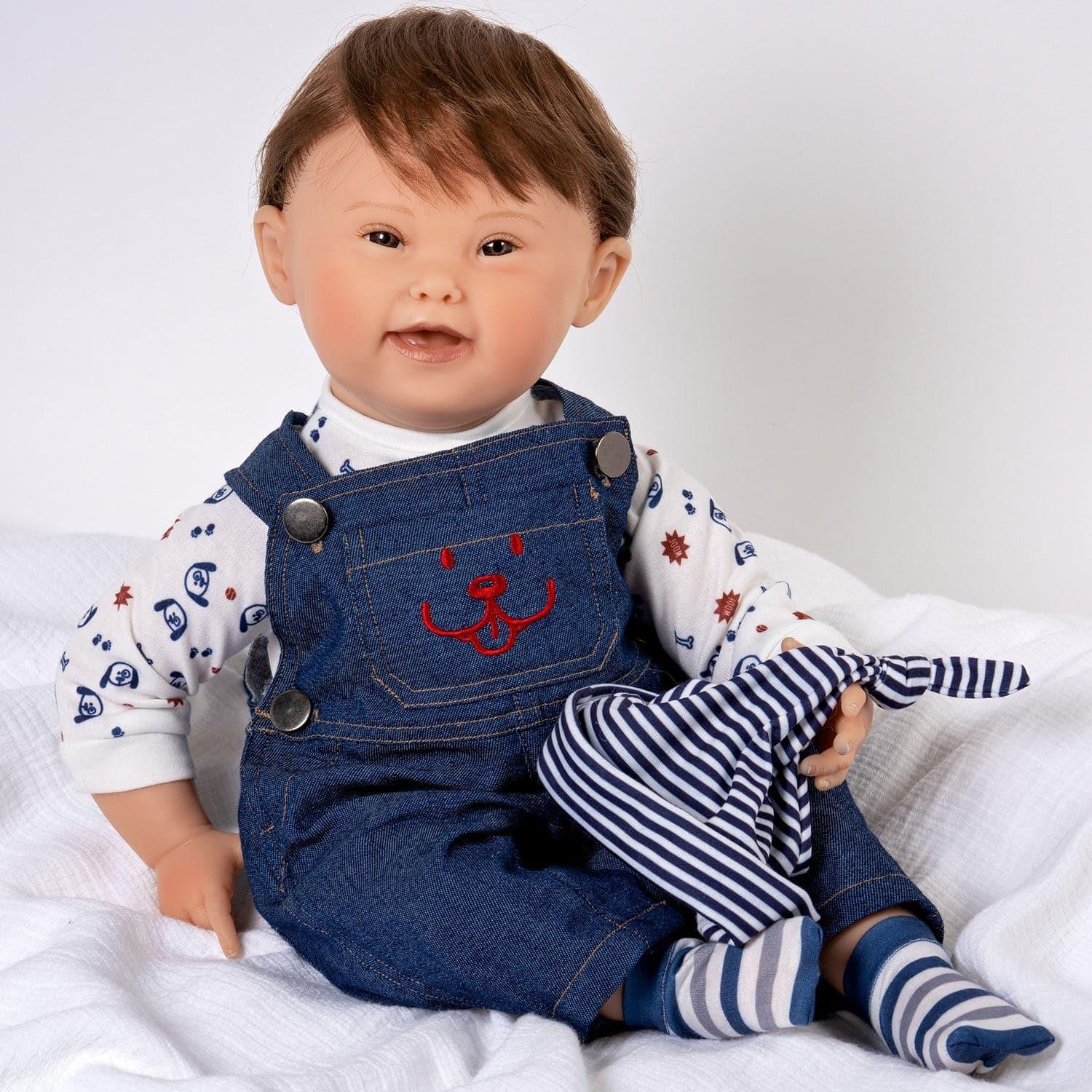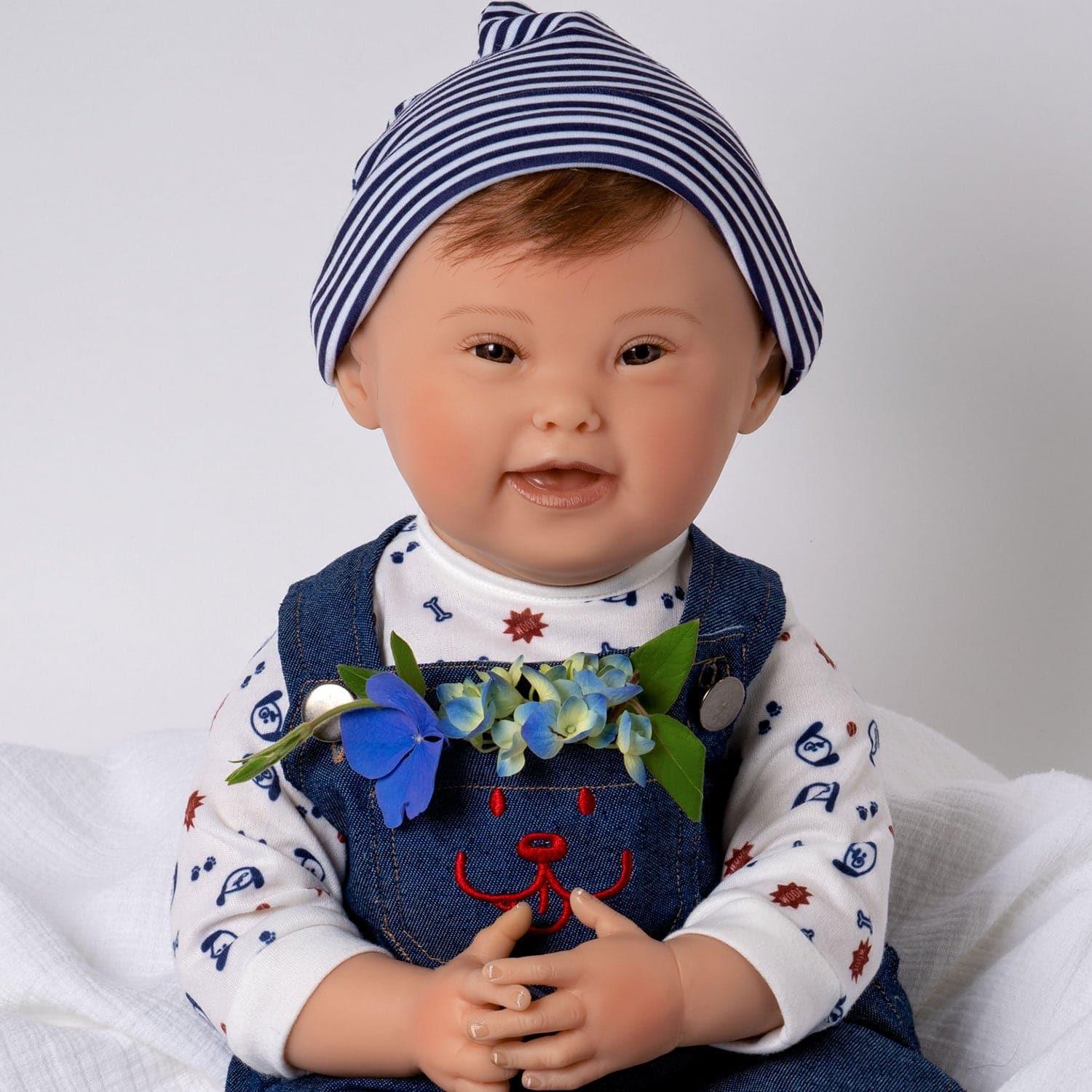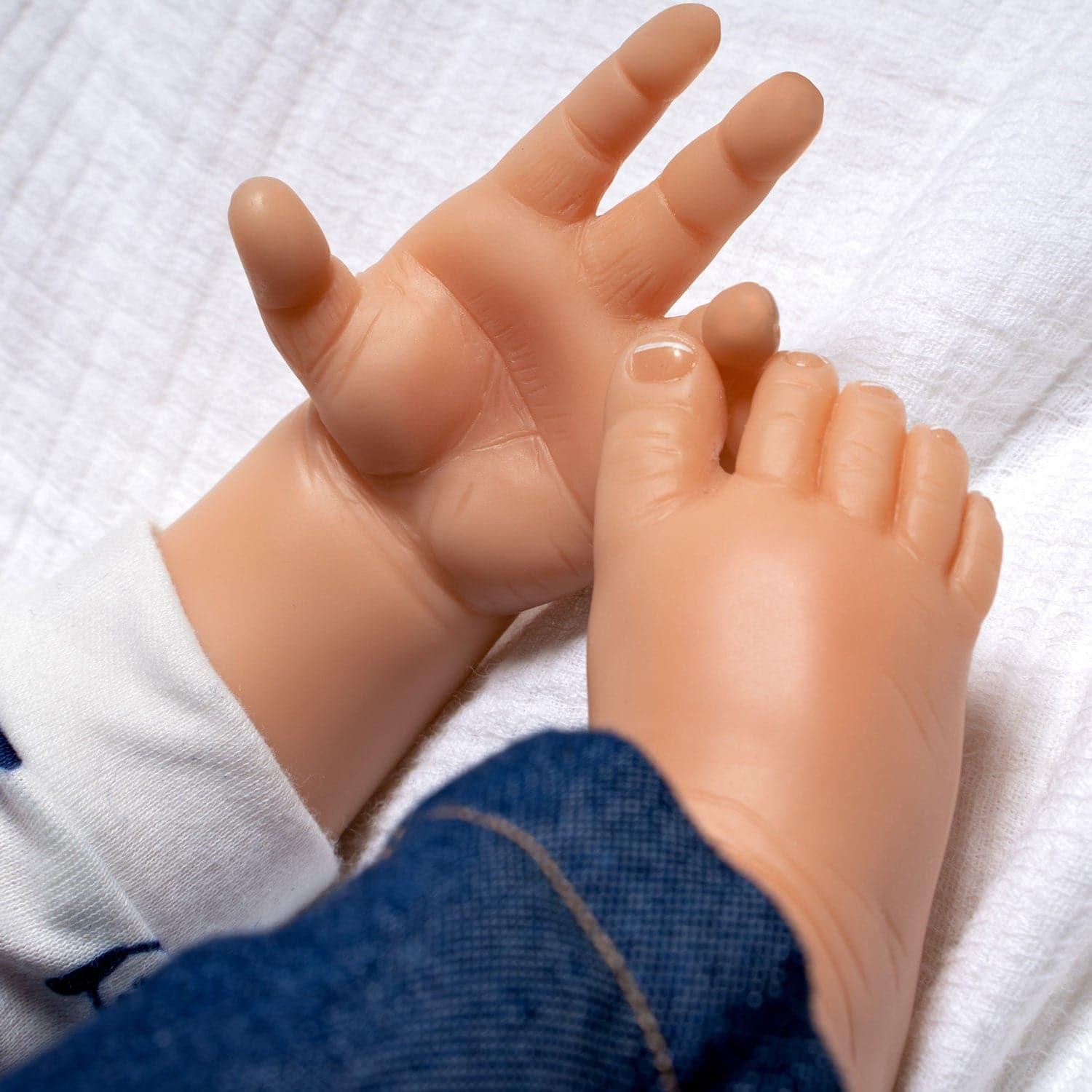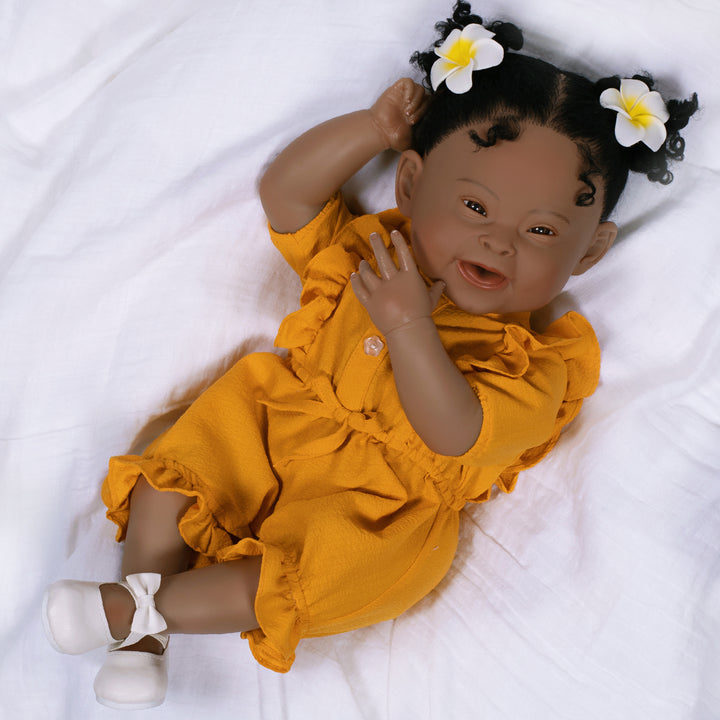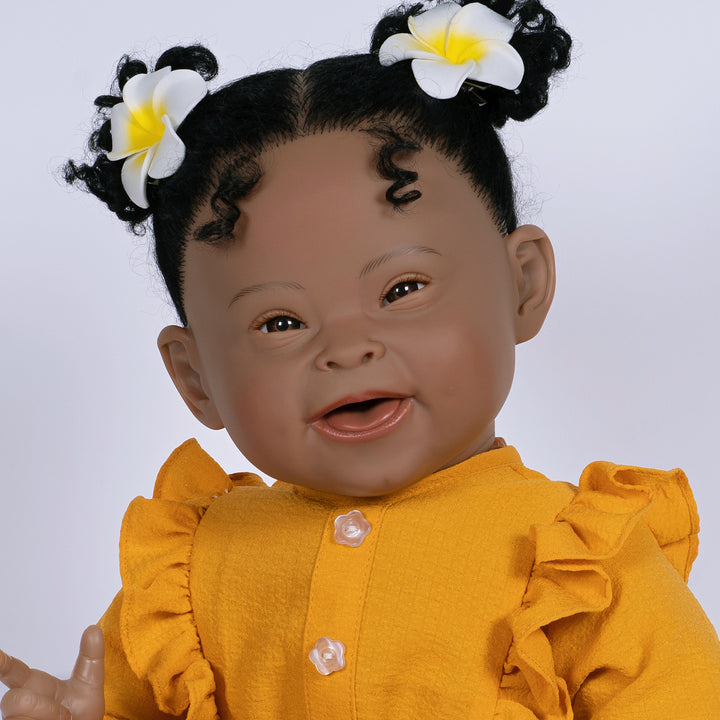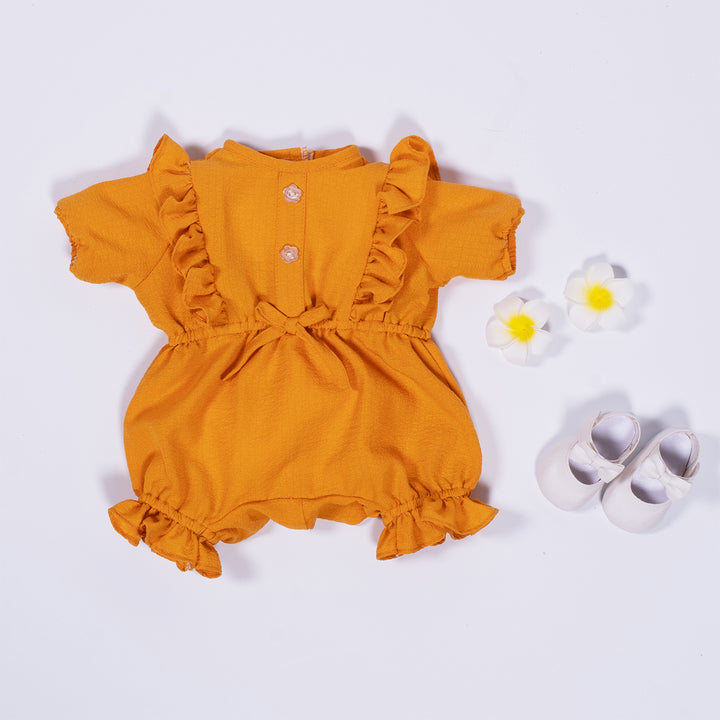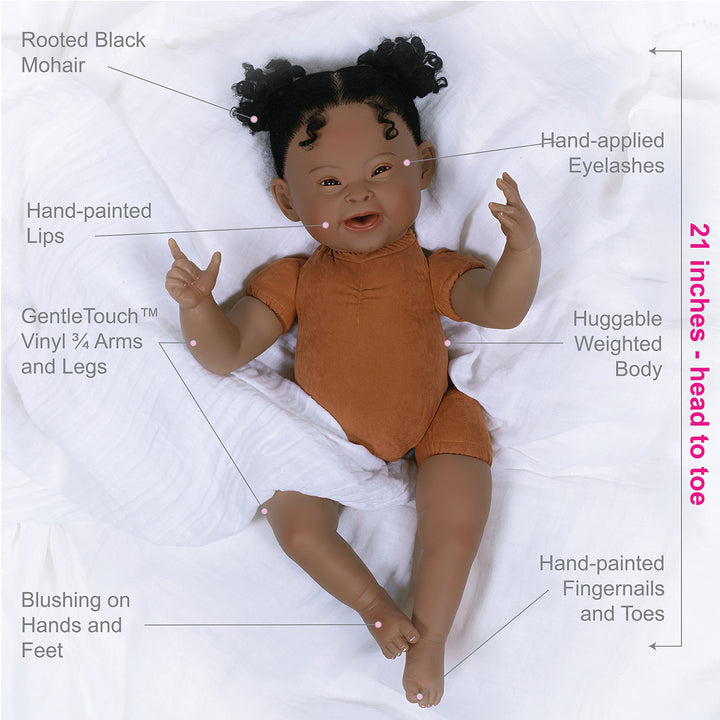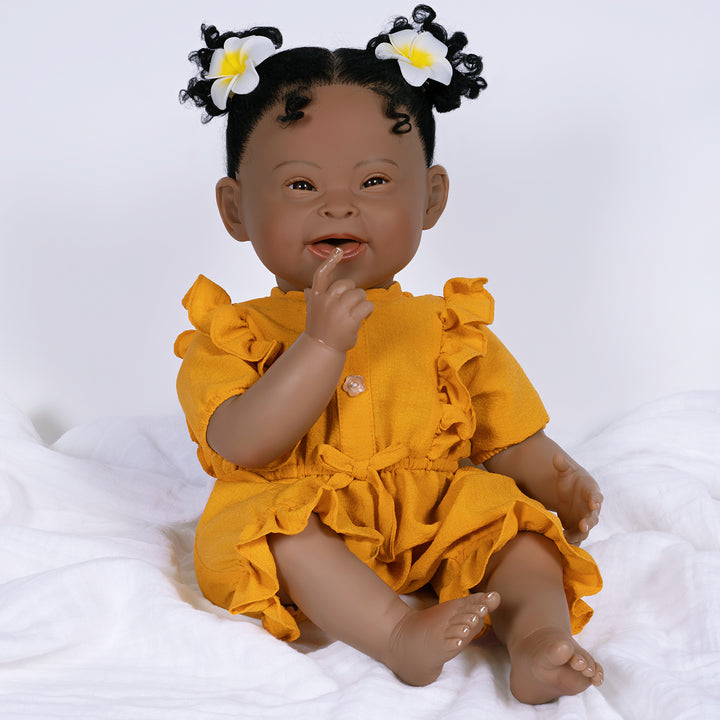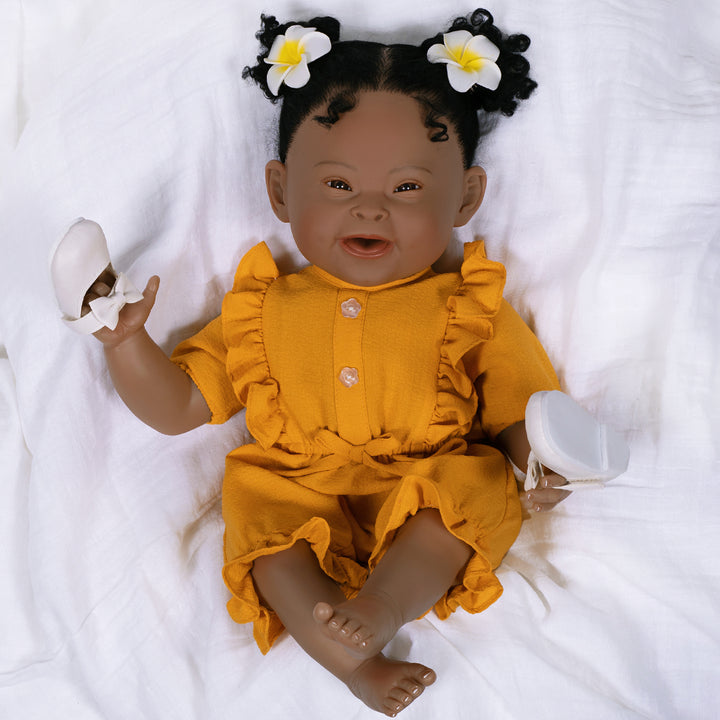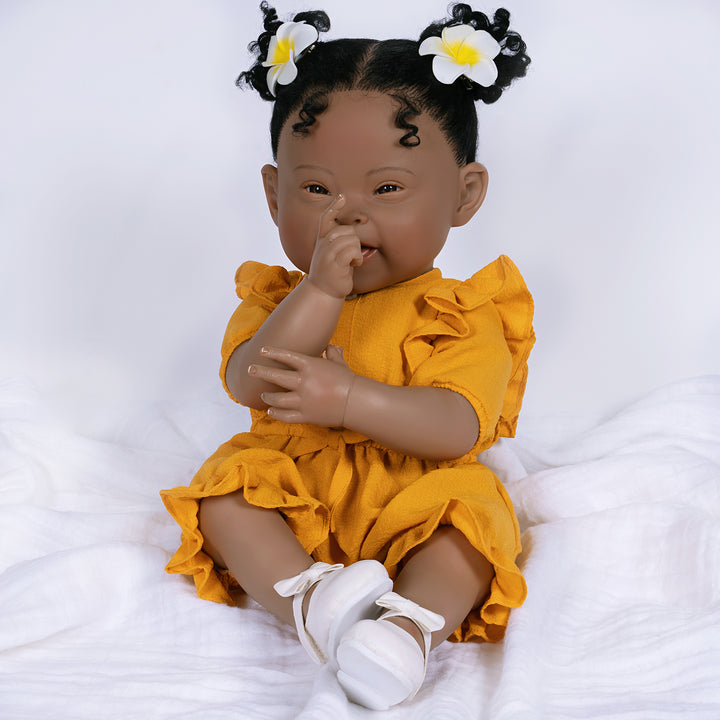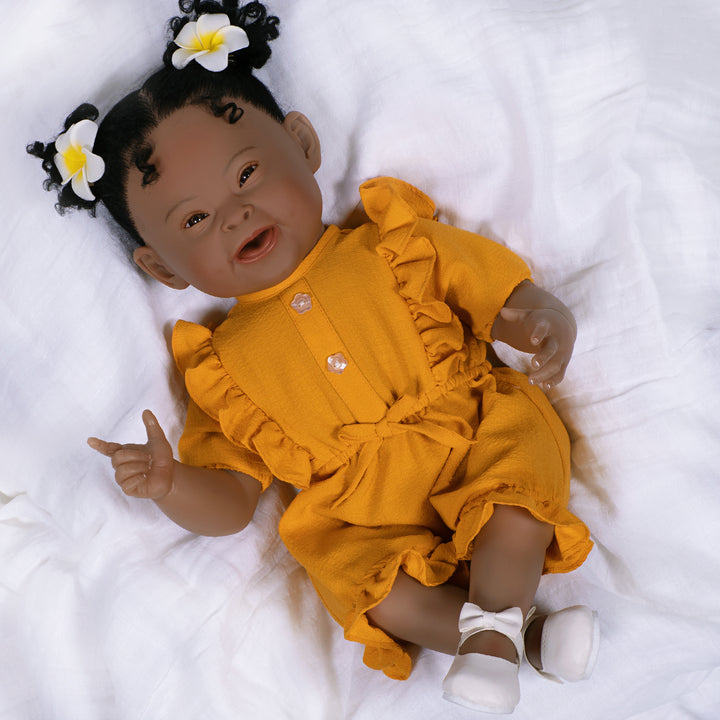 " width="1080" height="1080" src="//www.paradisegalleries.com/cdn/shop/products/EmmaThumbnail_x360@2x.jpg?v=1673985350"/>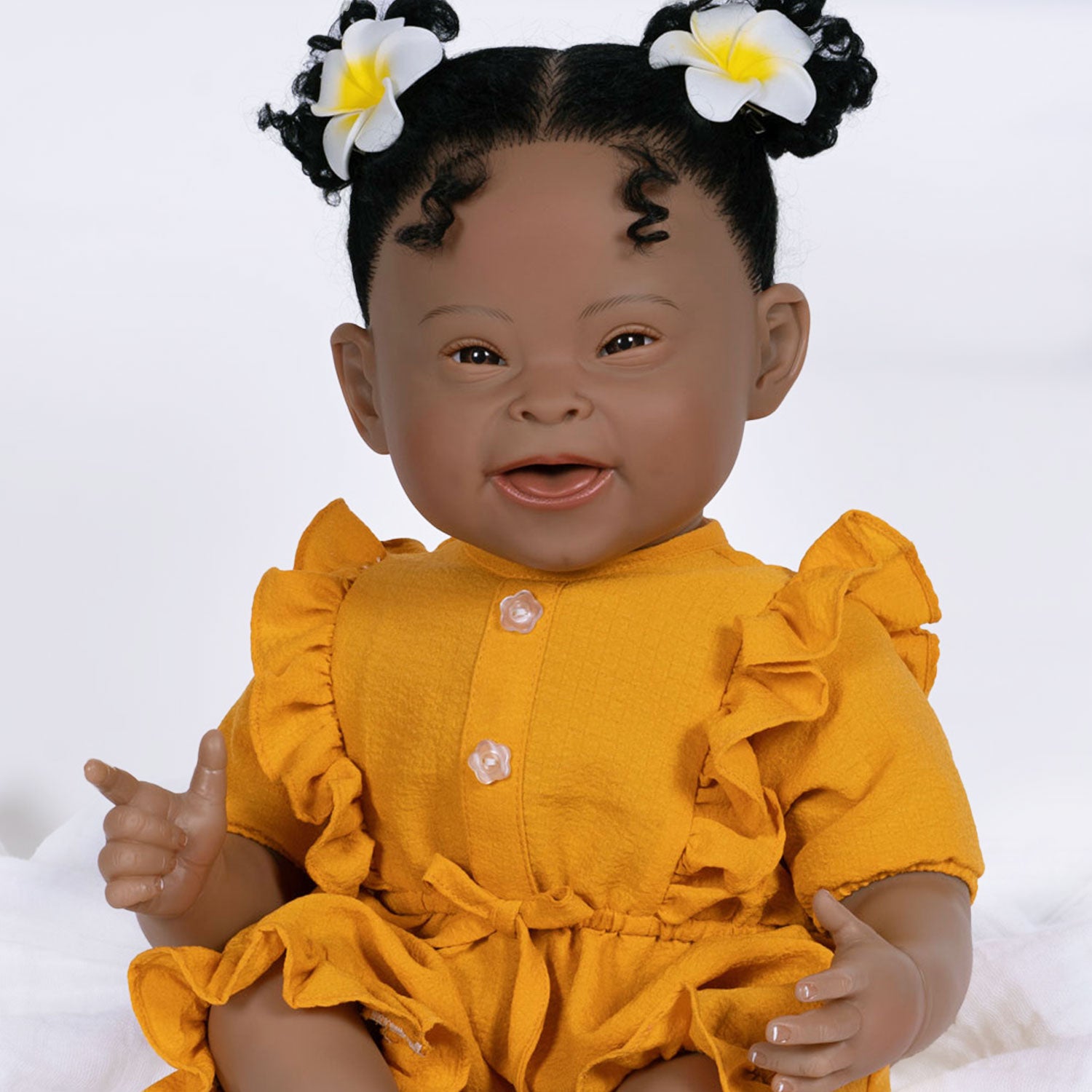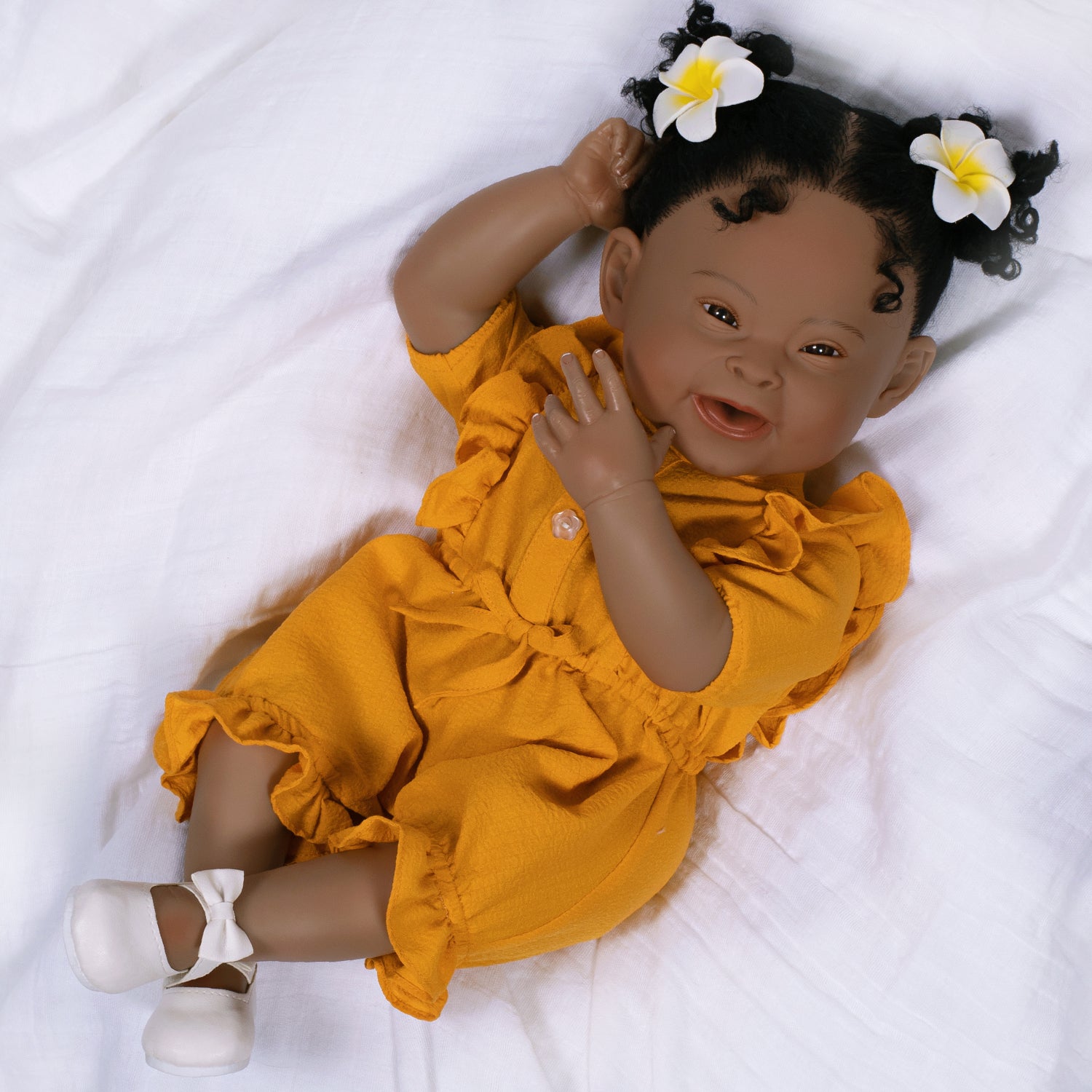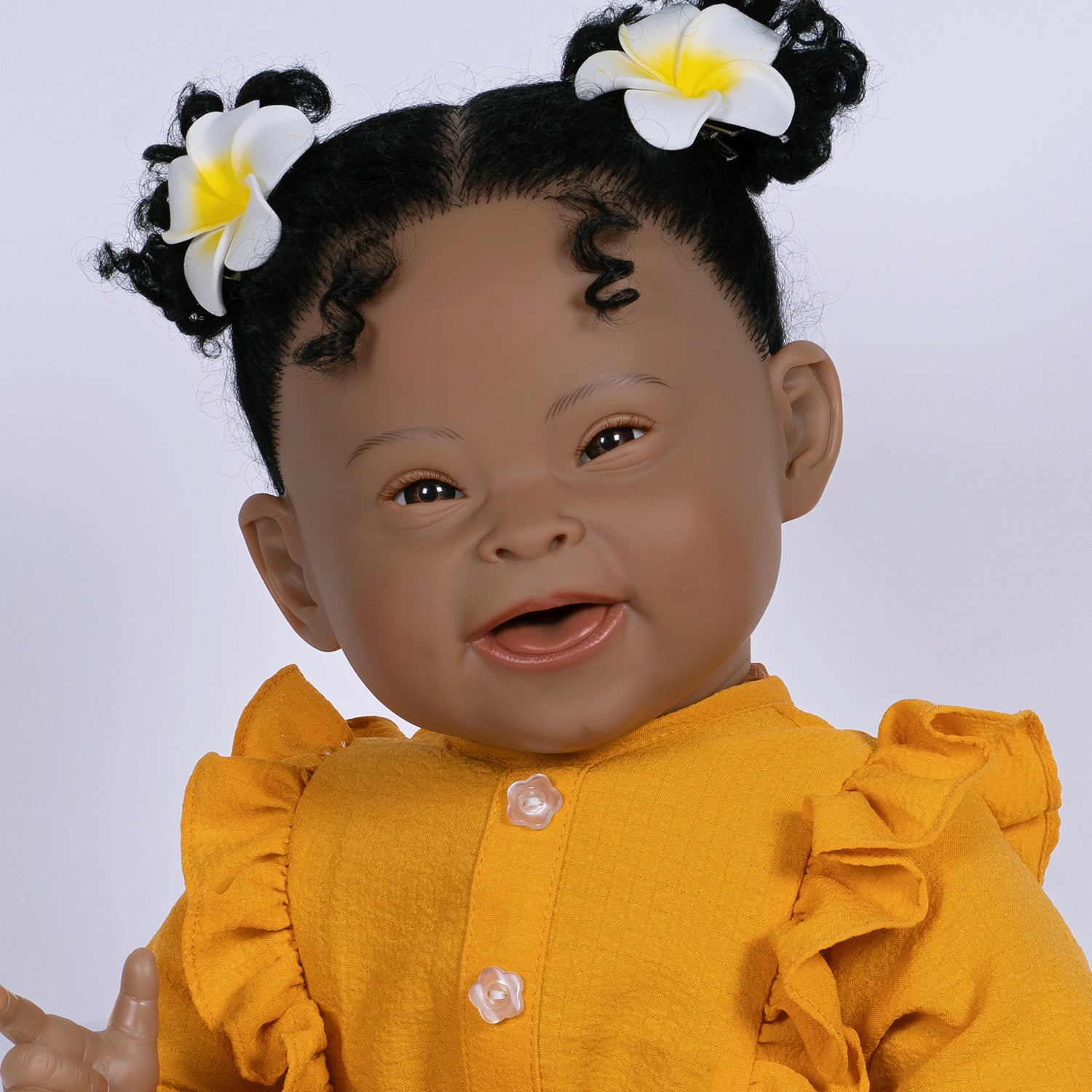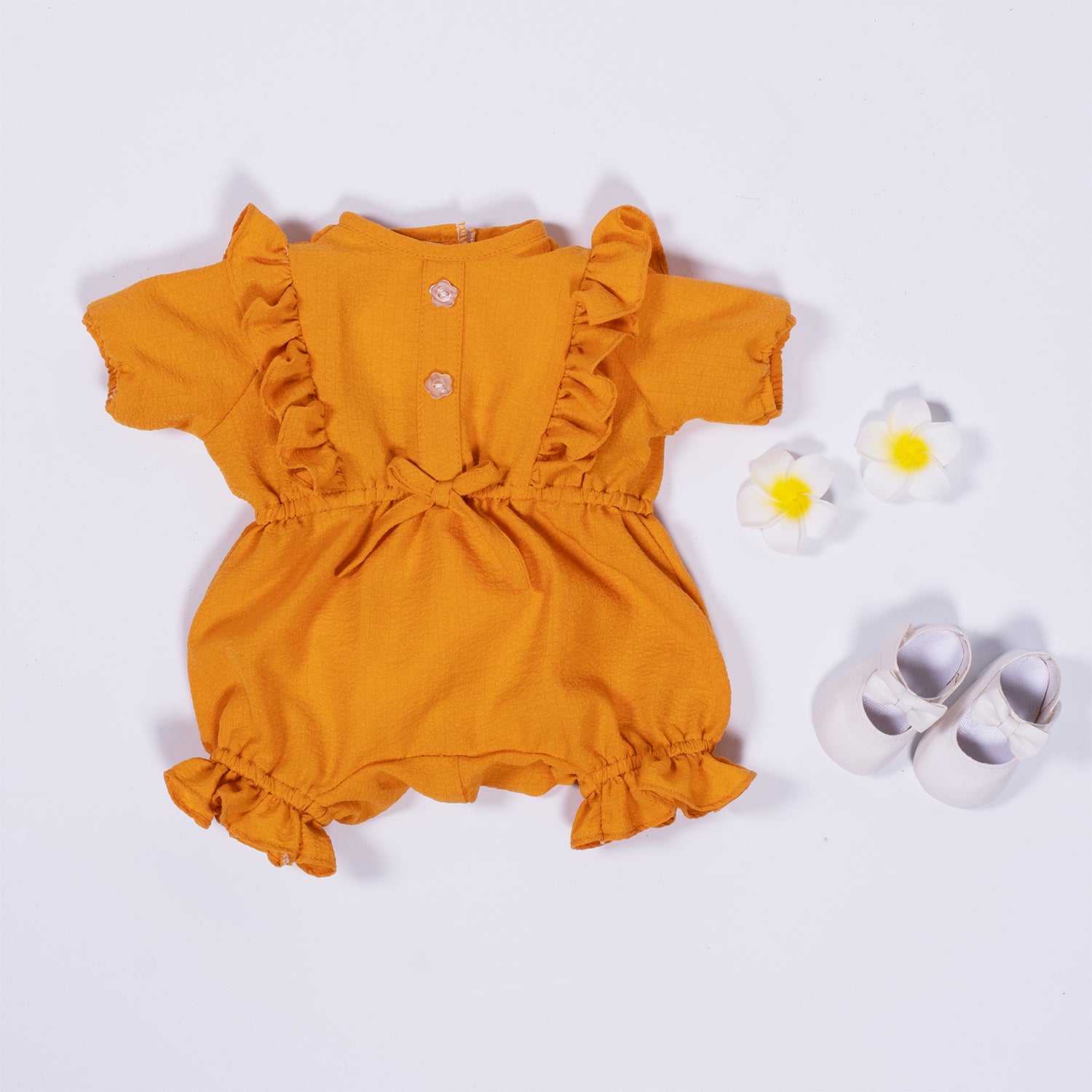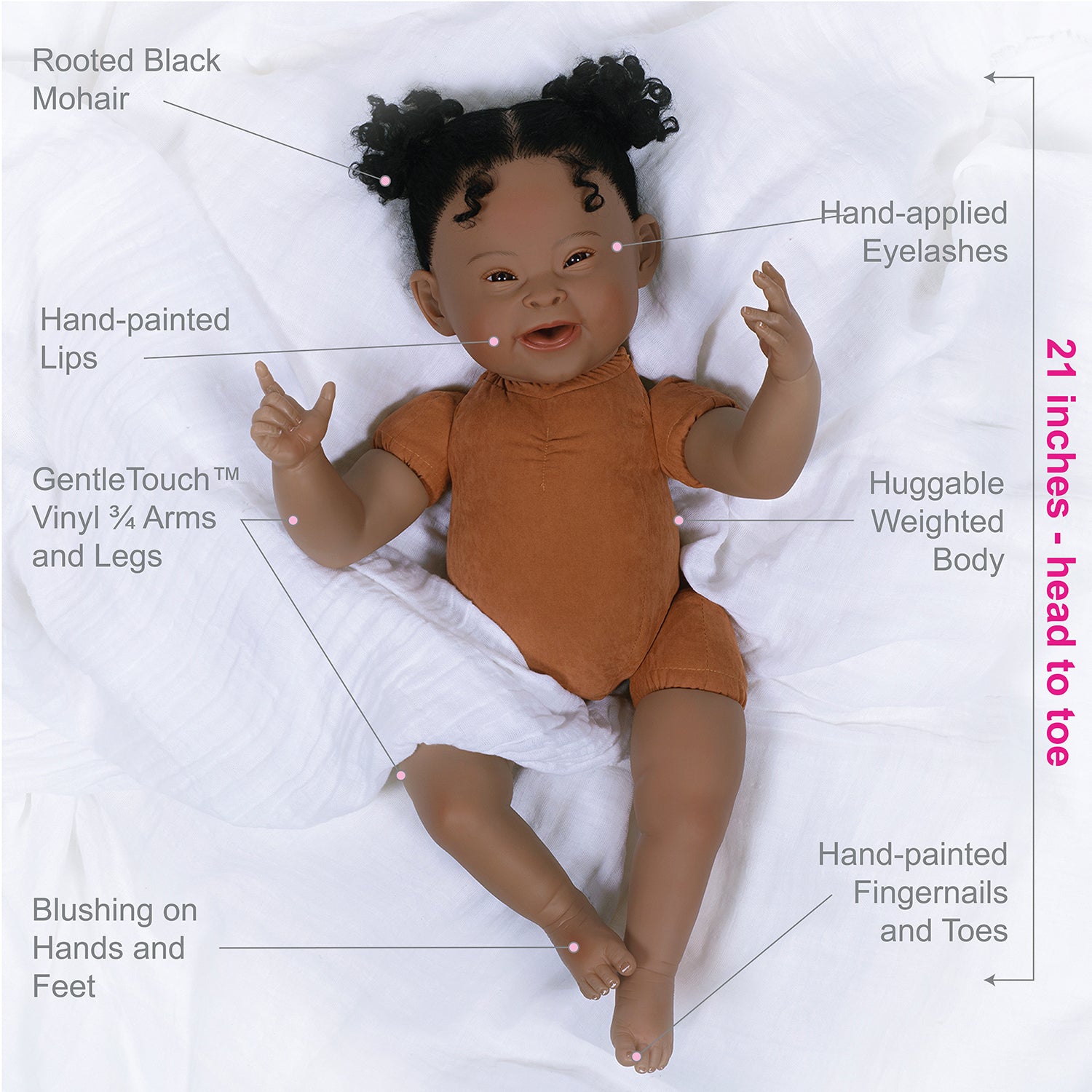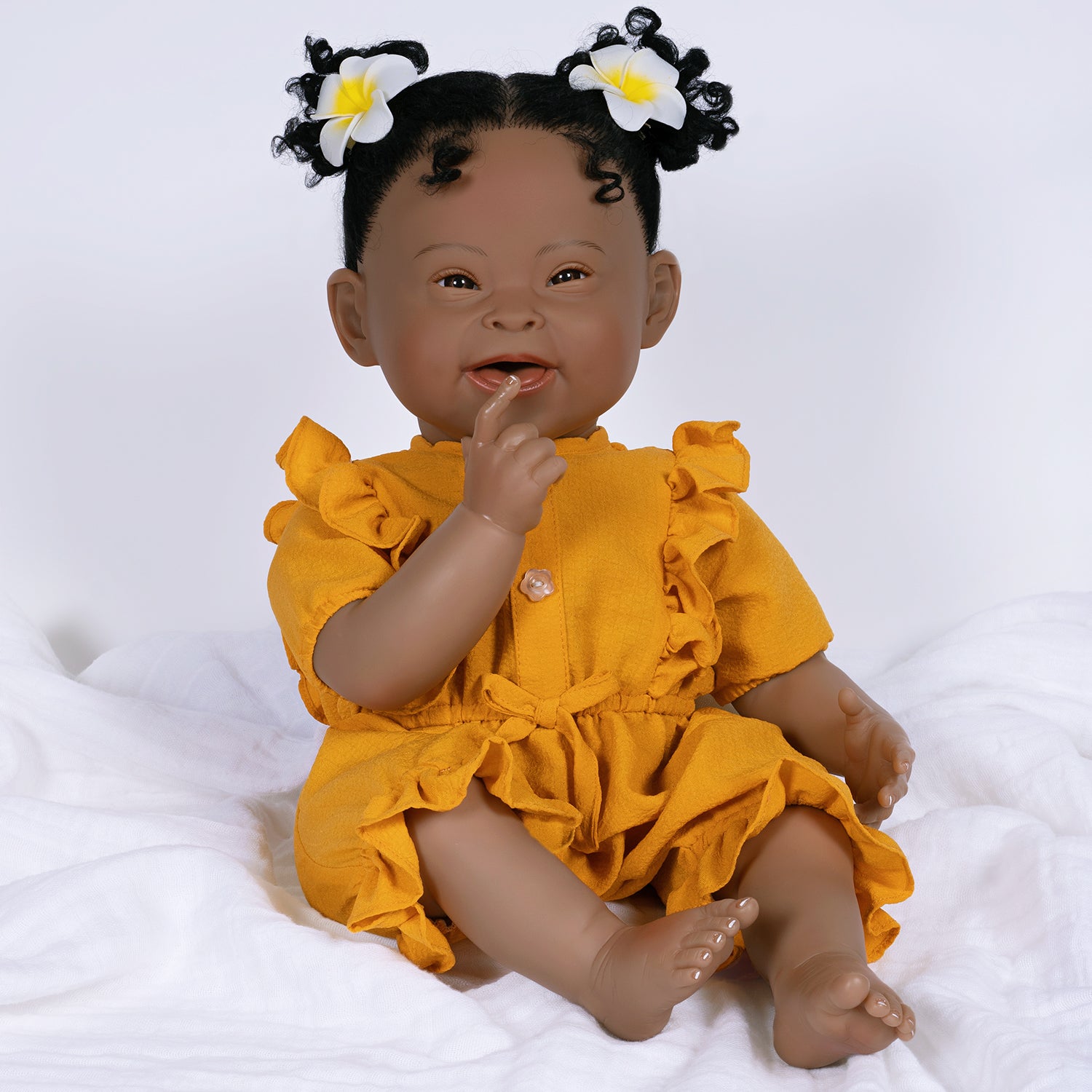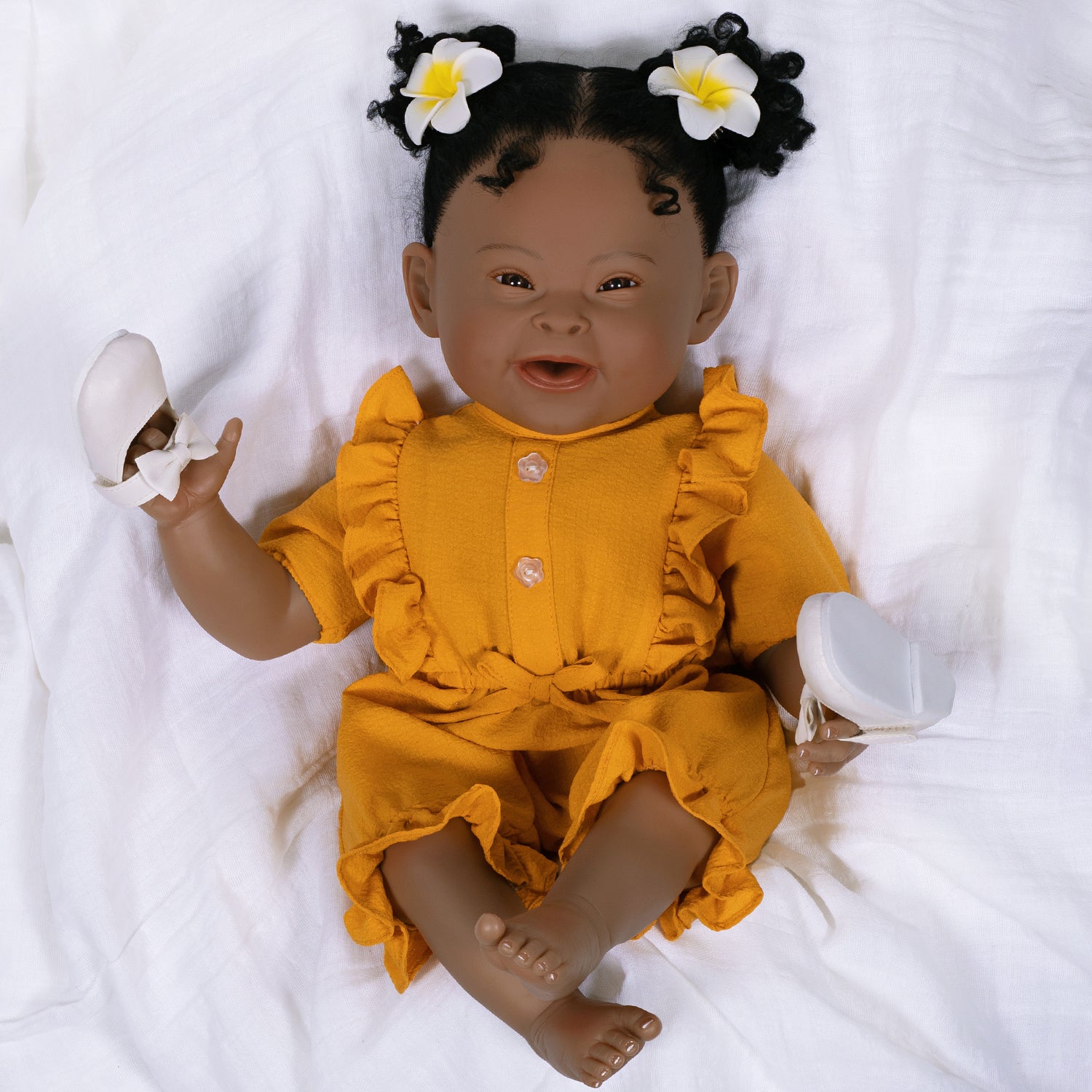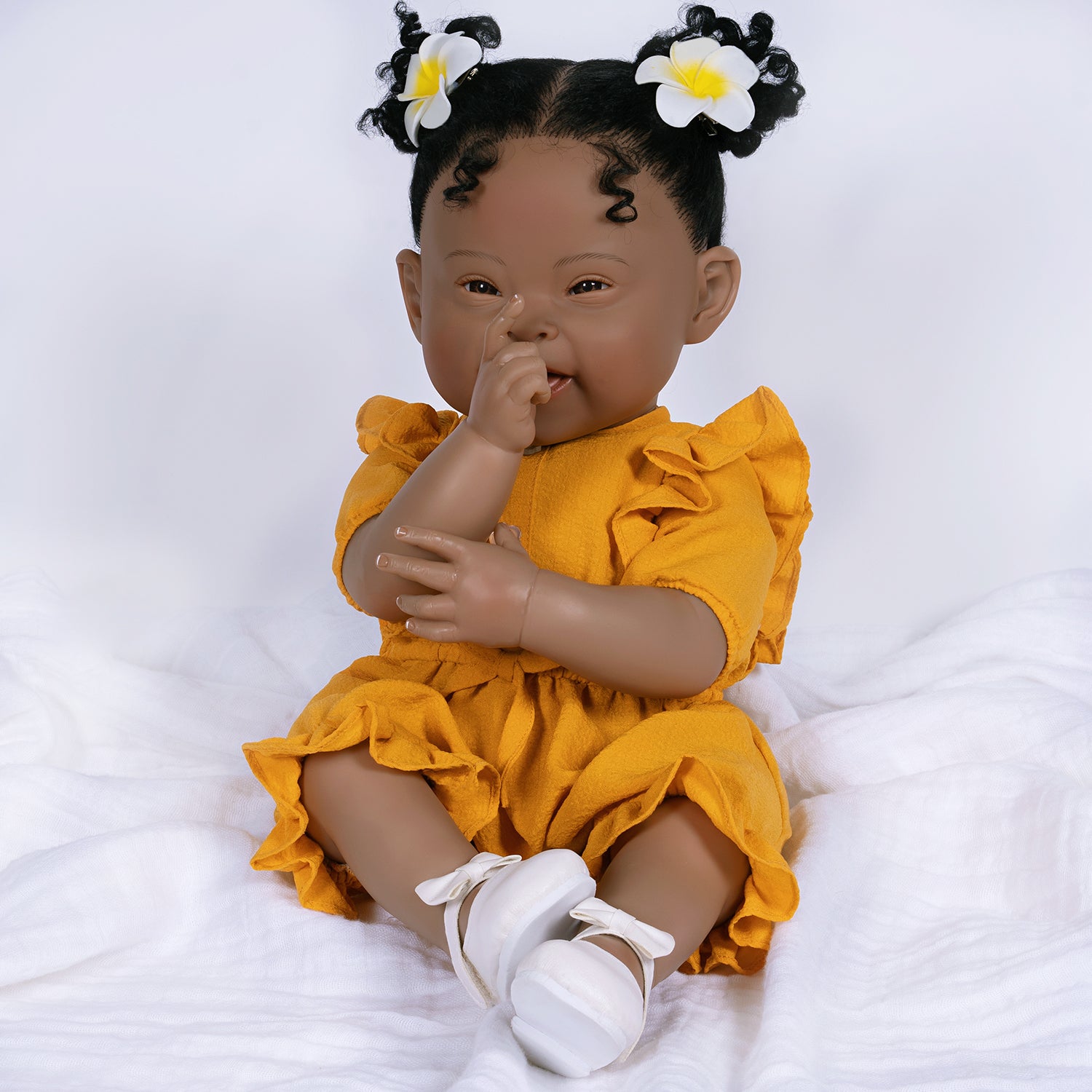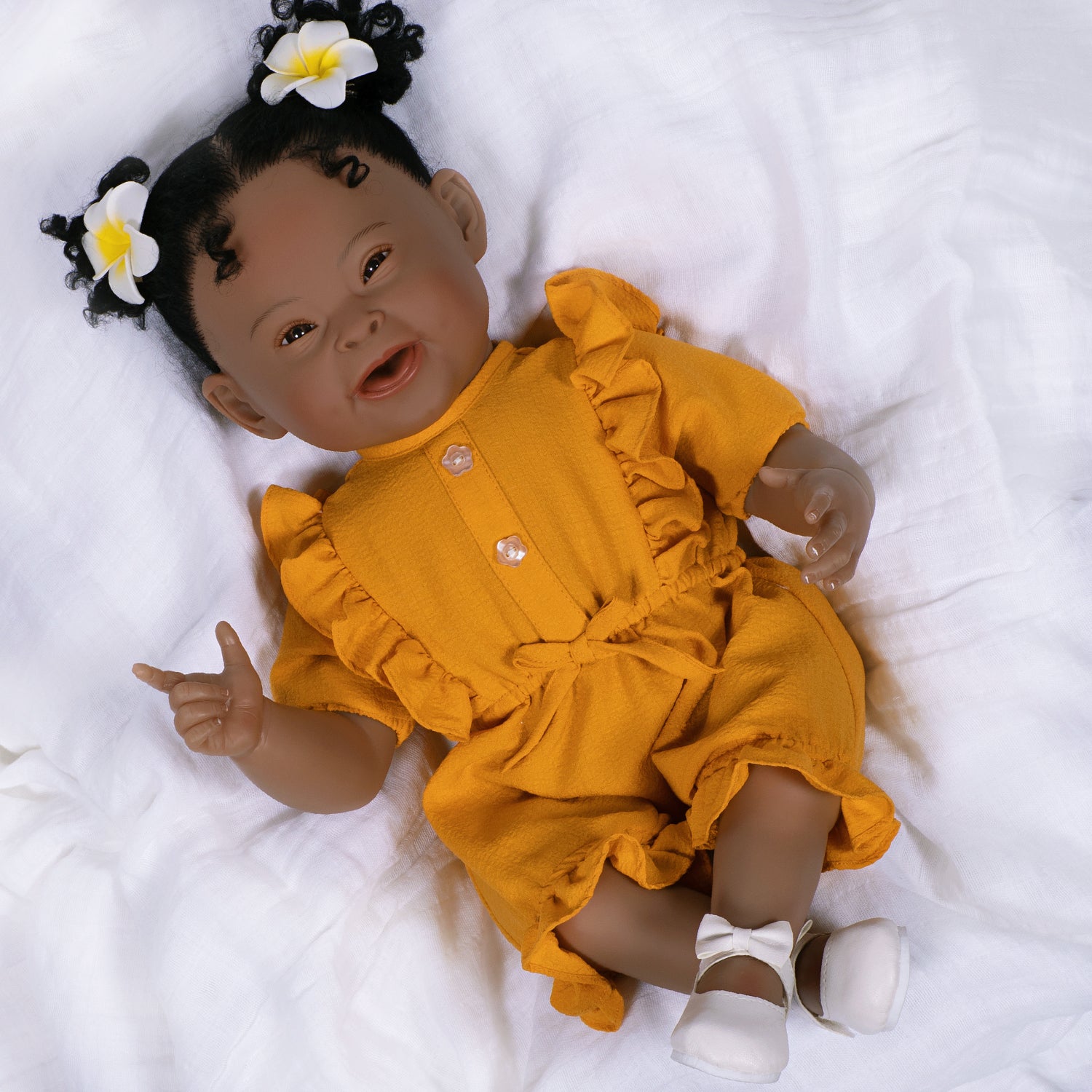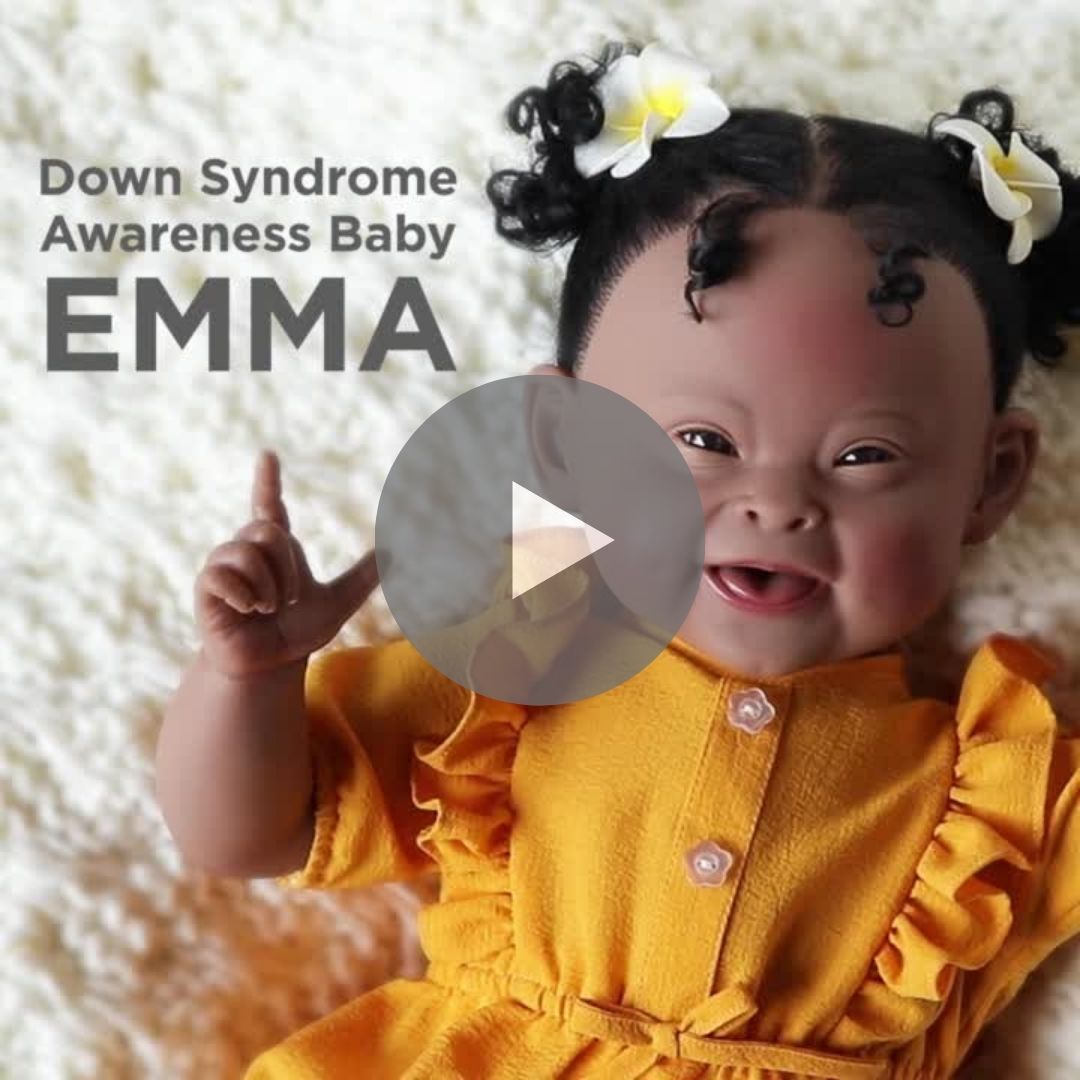 " loading="eager"/>
Emma for Down Syndrome Awareness
Emma's eyes light up with dreams and hope in her heart as she welcomes the bright and shiny days ahead. For her, every morning is full of fun and possibilities! Just like those two plumeria flower clips on her head, Emma is as bright as the sun with her warm smile and smiling brown almond-shaped eyes!